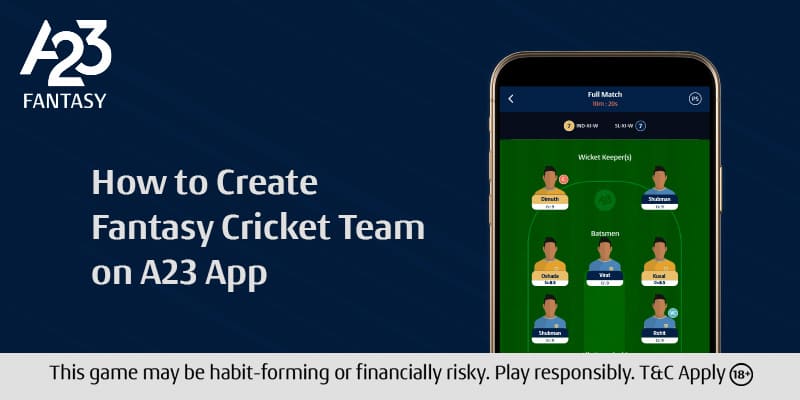 Cricket would undoubtedly be the loud, booming response if you asked someone to mention a sport which is closest to India. This straightforward bat and ball game, which was created in England many years ago, has a cult-like popularity in India.
Both playing and watching cricket are enjoyable activities for Indians. The popularity of fantasy cricket has become one of the most noteworthy effects of the cricket mania in India. As its name implies, fantasy cricket is a subgenre of the fantasy sports video game category. Today, over 100 million people play fantasy cricket, and this genre has swept India.
How to get started?
Fantasy cricket is really easy to play. It is simply a mobile app-based online, virtual variant of cricket. One must first download a professional fantasy cricket programme like A23 to get started. After downloading and installing the software, players must set up their own fantasy cricket team and participate in tournaments. You must choose a forthcoming cricket match, assemble your own squad of 11 players, join a competition, and monitor how well the players perform the day of the match. Depending on how the team performs on the actual game day, you will receive points.
It should be mentioned that although fantasy cricket is relatively simple to play and available to everyone, it is not a chance game or gambling. Fantasy cricket is a skill-based game because a user's ability to select players for his team directly affects how well his team performs. In order to excel at fantasy cricket, a player must be intelligent, have a thorough understanding of the game, and keep up with current events in the cricketing world. Fantasy cricket is often seen as the pinnacle of cricket knowledge testing.
How Do I Make a Fantasy Cricket Team?
You can quickly create your own fantasy cricket team with A23 and participate in the top fantasy cricket games available online. The stages to creating a fantasy cricket team are as follows:
Choose a Match
Click the "Create Team" option after choosing any upcoming game from the list of current and upcoming cricket matches.
Within a credit limit of 100, choose your fantasy XI team based on your abilities and knowledge.
Build Your Team
Choose players for your fantasy cricket team from each of the four categories: bowlers, all-rounders, batsmen, and wicketkeepers.
Check out the player's bio and the most recent stats. Players can be sorted by their teams, points, or credits.
Choose the captain and vice-captain of your team
Select the team's Captain and Vice-Captain after selecting your fantasy cricket team.
Captain: Receives twice as many points as he did for the game.
Vice-Captain: Gets 1.5 times as many points as he did throughout the real game.
Build multiple teams
Each match allows you to form multiple teams, and you may choose to enter a competition with any of those teams!
Advice on building the ideal fantasy cricket team
With fantasy cricket, sports fans have the chance to connect with actual games through the players they pick. The players score points based on the performance of the players they have selected. Players must be aware of certain strategies in order to put together a great virtual squad of genuine cricket players depending on a variety of factors.
To ensure that the players win their fantasy competitions, several elements must be taken into account when building a valued squad. Below are a few fantasy cricket suggestions to help you put together the finest team possible for the upcoming cricket game.
Just pick the top athletes
While it could be tempting to pick players who you grew up idolizing or who smashed breathtaking sixes at the most recent World Cup, showing favoritism when it comes to your squad in fantasy cricket is likely to contribute less than ideal results. Choose the best players for your side instead of just the "famous names." Increase the number of all-rounders on your fantasy cricket squad to improve your chances of succeeding since all-rounders will get you points for both bowling and batting.
Put consistency first
Increase the emphasis on consistency. You may check a player's performance to see how consistent it is. Selecting a player who consistently performs well is far preferable to having somebody who may or may not meet expectations. A reliable player won't always get a perfect score, but at least they won't be at zero.
Observe current player performance
The proverb "form is transient, class is forever" has a big exception in the world of fantasy cricket. One of the most important components of playing fantasy cricket is being informed and up to date on players' recent match performances rather than selecting them solely on their resumes or popular perceptions. Your ability to gain points is closely related to how well your chosen players perform on the official game day, therefore a player's current form indicates how likely it is that they will perform.
Depending on the weather and the pitch, choose your players
You might find it unexpected that there is a connection between your team selecting procedure and the weather and pitch reports. It is among the most crucial things to think about, though.
The weather of the venue where a game is being held and the pitch's conditions are elements that directly impact player performance, even though it may not appear clear at first. For example, some golfers play well enough on days with little to no wind, whereas others perform admirably even on windy conditions. As a result, it is crucial to choose players according to their relative strengths.
You should watch the games of your nominated players before deciding who to include and who to eliminate in order to determine the kinds of players best suited for a specific type of surface or weather situation.
When choosing your captain and vice-captain, exercise extreme caution
Making a wise choice for the team's captain and vice-captain will be the most crucial step in the selecting process. Since the captain and vice-captain are the two more accomplished players on the squad, their performance can boost your scoreboard's total. So, use caution when making your selection. The vice-captain gets you 1.5 times as many points for each run they score, and the rewards for a captain's performance are doubled.
You are likely to score more points than the other team members could if you've got a superb captain and a vice-captain who excels on every ball delivered his way, right? Therefore, choose your captain and vice-captain carefully.
Choose players based on the cricket format
In games with a set amount of overs, like T20 contests, the top-order batsmen get to bat the most. You can get the most points possible from the few ball deliveries with the assistance of these cricketers. Choosing middle-order batters is a pretty good bet for longer-lasting games, such One Day International games.
Assemble a team that is evenly distributed
It has been observed that fantasy players either pick a team with only strong batters or a large number of bowlers in order to win. But neither of them would make sure they had a strong team. When playing video games, you should aim to build balanced squad with an adequate amount of good bowlers, good fielders, and good hitters. Cricket is a game where every action the players take on the field counts, not just the batting or bowling. Therefore, increasing your chances to win the game by having a strong combination of bowlers, fielders, and hitters.
How Can You Win In Fantasy Cricket?
Here are a few suggestions for playing fantasy cricket that you should have in mind. To improve your chances of winning the fantasy cricket league:
Create the best fantasy XI using your expertise in cricket as well as the results of your analysis and research. Consideration should also be given to player form analysis.
Check the weather report and the pitch analysis. You should either have more batters or bowlers in your fantasy XI, depending on this criteria.
The greatest pick for captain or vice-captain is an all-rounder because they have more opportunities to score fantasy points. They are capable of batting, bowling, and playing the field.
Selecting bowlers who bowl in the dying overs will help you earn major fantasy XI points because they are more likely to take more wickets.
Don't pick a player out of favor. because it is ineffective in the world of fantasy cricket. Every player should have an equal probability of being chosen.
Enjoy Fantasy cricket on A23
Are you a cricket lover, willing to participate in your favorite cricket tournament or league virtually? Well, there is no lack of fantasy cricket apps on the internet, but you need the one that will allow you to play at your comfort and ease. A23 is the name, used by millions to enjoy various fantasy cricket games daily.
On this platform, you can enjoy a safe gaming experience. Install the app now, join a match, create your fantasy team and win big cash rewards.