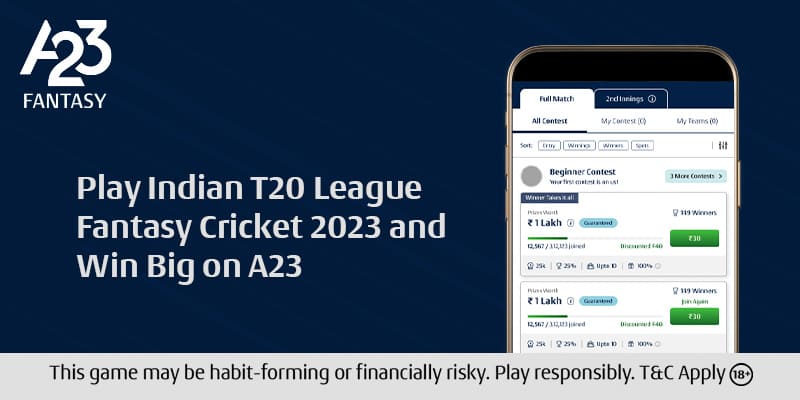 The cricketing world has evolved since the Indian T20 League debuted in terms of how spectators enjoy the game. The Indian T20 League is perhaps the greatest venue for Indian youth cricket and domestic cricket players to display their talent. Also, they have the ability to pick the brains of legendary cricketers who compete with or against them for various franchises. This aggressive style of cricket is beloved by spectators everywhere, and this is undoubtedly the most entertaining style of cricket ever played. Fantasy sports fans eagerly anticipate the games every year before the league begins because the absurd idea of pairing home cricketers with overseas players is quite remarkable.
Fans of fantasy cricket games earn millions of dollars just days after the Indian T20 League begins. The competition offers endless amusement and fun. Despite the fact that playing fantasy cricket games boosts a player's blood pressure and gives them an extra kick. Playing a fantasy cricket game where teams made up of real-life players perform in front of us and score points is an incredible experience. The most frequently discussed connection is that between the Indian T20 League and online fantasy cricket games. The daily matches and competitions held in the league section, which allow fantasy players to win greater prizes than typical series matches, are mostly to blame for this.
This is the ideal time to launch your career in fantasy cricket if you're interested in getting involved. The ideal situation for playing fantasy cricket online is A23. This is due to the fact that it provides the players with the best deals, winnings, and substantial cash rewards. The user-friendly Smartphone layout makes it simple to grasp the restrictions. Here, you can put together your own team while keeping in mind to review previous player statistics and pitch reports to find players that will stand out and provide you an advantage. Your fantasy team will score points after a game and move up the league rankings.
Play to win
Fantasy Indian T20 League Cricket offers all participants the possibility to win actual money, so it's not just about watching and enjoying cricket. Do you wish to earn money lawfully and stay free of any scandals related to gambling? The safest alternative for you to earn some money legally while actively engaging in and playing your favorite sport is the Indian T20 fantasy league.
Understanding Indian T20 League Fantasy cricket
In Fantasy Indian T20 League You can theoretically own a fantasy team made up of real players by playing cricket, which connects you to the game. You can choose and purchase players from various teams to build your team, and you can do it by using virtual currency. Numerous IPL fantasy league websites give bonuses to new members.
The amount of points you earn is based on how well your fantasy team's players perform in real life. You will gain points based on a number of different things, including runs, wickets, catches, strike rates, economy rates, run-outs, and so on. The contestant with the most points in the end receives money and other rewards.
How do you play?
You can participate in any of the daily challenges or the fantasy championship offered by the Indian T20 League Fantasy Cricket and win real money rewards in accordance with your preferences. The basic actions you should take to begin your journey are as follows:
To begin with, you must register on the A23's official website.
The following stage will be to establish a team with a name, motto, and symbol.
While getting your players, be mindful of the fixed purse you will receive.
Four batters, a wicket keeper, a minimum of one all-rounder, and at least two bowlers must be part of your team.
You can win real money every day if you participate in the "daily challenge," but you are only able to select your fantasy players from one of the two teams that are in competition. Nevertheless, if you compete in the "fantasy championship," you can win a sizable sum of money and have the choice of any player on any of the opposing teams.
Fantasy League Points for Indian T20
Understanding the scoring system is essential since it allows you to choose the best players for your team. The first half of the battle is won as you comprehend the score system!
A batter receives points for each run scored as well as a boundary or six. More points are available for high strike rates, hitting 50 or 100, and a select few others.
For each wicket they take, bowlers receive points. More points are awarded for being bowled out or lbw, among other dismissals.
The wicket keeper receives extra points for stumpings, while fielders receive points for catches and run outs.
Check out the A23 fantasy scoring system and the game rules if you're a beginner. You can easily develop into a very skilled player with some practice.
Best Strategies for the 2023 Indian T20 Fantasy League
It's time for cricket fans to concentrate on their fantasy cricket tactics now that the Indian T20 League is well underway so they can experience the same joy and excitement as their on-field stars. Here are some suggestions to assist you rank at the top of the scoreboard if you're using A23, one of the most well-known and reputable fantasy gaming apps.
Analyze the circumstances
One fantasy cricket tip and tactic that many players overlook is this one. Cricket is directly impacted by the weather and on-field conditions, unlike many other sports. Even the finest players can suffer under specific circumstances, while certain player types excel on particular fields. Go at recent results from that arena before selecting your starting lineup. Have there been many goals in the games? Do bowlers who use new balls get more wickets? Has it been difficult to strike the spinners? This element should influence your decisions just as much as the player's present form does.
The key is balance
You have a number of advantages over the selectors who choose a real-world cricket squad. You get to pick players from both teams first. You can choose up to 7 players from the team you believe would perform better, as well as more than one skilled wicketkeeper. Additionally, none of the conventional restrictions that cricket teams face apply. If you believe the circumstances need it, you may only select one specialized batter. No traditional XI is selected in such manner. If you believe top-order hitters will struggle, you can also make your team up of all-rounders.
You can form your team as you want. Contests have occasionally been won by teams with a heavy emphasis on all-around players and bowlers, or teams with as many as three alternatives for wicket-keeping. Ignore tradition and make a decision based on the circumstances.
Choose the right leader
One of the most crucial suggestions for succeeding in fantasy cricket is this. The majority of the teams in the Indian T20 Fantasy League are either captained by very seasoned players or by young players whom the team management thinks can head for a very long period. In actual cricket, captaincy is frequently regarded as a prize for consistency and expertise. Moreover, people with superior player-management abilities frequently receive it.
The vice captain receives 1.5x points and the captain receives 2x points for similar performance by other team members. Just pick the players you believe will perform at their peak on that particular day. A newcomer or a declining star in his last season could be the subject. It's generally a good idea to choose your vice captain and captain from opposite teams to be safe.
The ideal place for a cricket enthusiast to combine talent, analytics, and data to improve in the game and raise the percentage of victories is A23. By applying your cricketing knowledge to create different teams and give the competitors a tough fight, you can make an investment and obtain a far better return as opposed to verbally sparring with your opponents. In the realm of fantasy cricket, using the proper strategies at the appropriate moment makes you an unbeatable player.
Play Indian T20 League Fantasy Cricket on A23
A23 is the brand name of a fantasy sports website popular in India that is increasingly broadening the horizons of its customers. It offers you the chance to compete against other fervent participants using your sporting abilities and knowledge.
On this well-known site, where you can earn credits for building your own virtual team, you can play fantasy cricket. Your fantasy team will score points as a result of the real-life performances of the players you have selected in the actual matches.
Choose a game first, and then a game, from the vast selection of current matches on A23. Build your team with the best players by utilizing your experience. When choosing a contest, you must exercise caution because the prize pool fluctuates. A3 routinely updates the rankings, and if you place high enough to win money, you can immediately withdraw it.