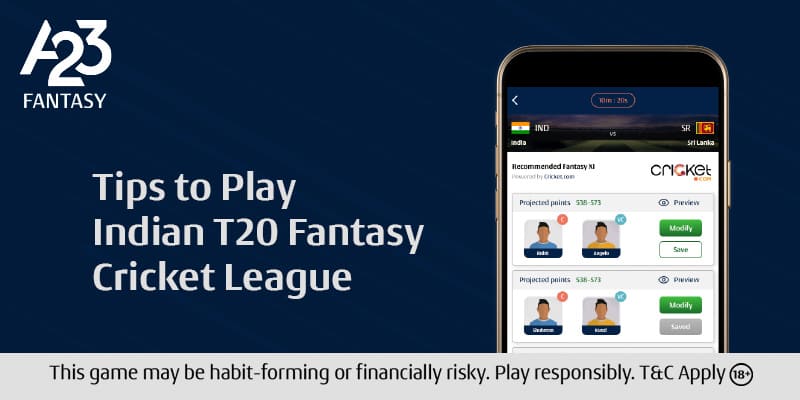 It's actually pretty clear that the majority of us are familiar with the concept of fantasy sports. T20 cricket, on the other hand, is a whole different game. The gameplay is made more engaging and fascinating by the various mini-battles, last-minute storyline twists, and dynamic adjustments.
Millions of cricket fans around the nation are influenced by the Indian T20 League every season, as we have previously seen and experienced. India is recognized for producing the most extreme cricket or sports fanatics.
Thus it seems sense that a competition like the Indian T20 League would be a huge success. In addition to cricket enthusiasts, the cricket event has compelled non-traditional cricket fans to witness the most thrilling cricket variant, Twenty20.
The Indian T20 League's extraordinary success has made it easier for fantasy sports companies to influence the sport-loving population through fantasy cricket. You get to have a similar experience to the Indian T20 League in fantasy cricket, showcasing your abilities and understanding. The Indian T20 fantasy league may be seen as a chance for die-hard cricket fans to demonstrate their expertise while also winning some real money rewards.
It's time again to have fun with Indian T20 fantasy league
Indian T20 fantasy league is undoubtedly entertaining since it allows you to experience the excitement and emotion of the actual Indian T20 league. The outcome of each fantasy cricket match is determined by the performance of the players you have chosen in that specific contest, which is always followed by a real-world match.
You keep score till the game is over by seeing how your fantasy Indian T20 league players perform in real life. The trick is picking the appropriate athlete and putting them in the correct spot. Do your studies so you can motivate your fictitious Indian T20 League squad to achieve at their peak.
Why is the Indian T20 League changing the game?
The Indian T20 League has had a variety of effects on the country's fantasy sports sector. First and foremost, it has instilled a remarkable spirit in the populace and given them hope that they may indulge in their favorite sport without disrupting their daily routine. Second, because of the magic and spark it portrays, individuals in India who are already passionate about sports, particularly cricket, are naturally drawn to it and seek out ways to participate in such games more actively.
Important pointers to ensure you win the prize
You should be cautious about a few things that will help you win the game when taking part in the Indian T20 fantasy league. The most crucial factor that you must take into consideration is staying current. You must be conscious of the players' present situations in order to create a squad that can easily defeat your rivals by accruing the most points.
You should constantly keep an eye out for the most recent updates and announcements that the squads make. Always keep an eye out for player injury updates and be mindful of any changes in position. The secret to your success in fantasy sports may lie in your choice of top order batters.
The various facets and fundamentals of participating in a fantasy T20 cricket competition are listed below.
Influence Players
Players who can flip a game on their own should be preferred because T20 is a 120-ball contest in each innings. So, it is usually advised that a player be chosen for a T20 fantasy league depending on his potential influence rather than his famous name.
In a T20 game, a score of 60 in 30 balls will award more points than 30 runs from 60 balls. Choose accordingly.
Players of multi-dimension
The T20 game's sheer unpredictability makes it exciting, but it can once again work against a fantasy player.
Let's go over this example:
If someone chooses to lead their fantasy team with a solid opening batsman and he is easily dismissed, the team will undoubtedly struggle. As a result, rather than concentrating on one-dimensional T20 players, try assembling a team of players who can bowl, field, and bat. You'll accrue extra points as a result of doing this.
Choosing based on scenarios
A T20 team needs to be constructed based on several match circumstances that could occur in the actual game. This is now the most difficult task, but it may be anticipated with a reasonable strategy and analysis.
In a T20 fantasy league, for instance, selecting a middle order batsman as your captain or vice captain generally indicates that you anticipate the team's top order to struggle. Avoid choosing batters from the top of the order in such a situation and choose opposing bowlers instead, since they are more likely to take the wickets.
Mini-battles in the game matter
Undoubtedly, watching a T20 game is exciting, however what makes this game even more exciting are the mini-battles that occur during it. In reality, the outcomes of the mini-battles foretell how the T20 match would turn out.
For instance, if an offensive batsman is up against a top-notch leg spinner who has expertise often dismissing the aforementioned batter, make sure to choose just one of them for your side.
Pick your sides carefully the next time you are engaged in a player duel between the ball and the bat in a T20 game.
Selection based on innings
The innings-based performance of every single player you have chosen must be taken into consideration in T20 fantasy leagues as another crucial factor.
Some athletes love chasing, while others like to bat first. One bowler would like to bowl on a brand-new pitch, while another would prefer to bowl second. When it comes to fantasy cricket success, these choices actually matter a lot.
Investment Diversification
In participating in T20 Fantasy league, there are many different fantasy competitions available. Diversification of funding is crucial in these games to keep up with the constantly changing dynamics of T20 cricket. Then and only then can we hope to dominate T20 Fantasy League.
While selecting your captain and vice captain, exercise extreme caution
The majority of the time, your fantasy team's direction is decided by the captain and vice-captain of your starting Eleven. Your team's captain earns two times as many points than other players and the vice captain earns 1.5 times. Make sure you thoroughly investigate each player before making your selections. All-rounders or wicket keepers are typically advised as captain choices since they are more apt to provide you points in several categories. You can choose the more well-known players for their dependability, but every so often, take a chance and choose an unknown player to captain your IndianT20 fantasy squad. In a fantasy league, you can never predict which player will have a particularly strong day.
To Improve Your Odds Of Winning In Fantasy Cricket, Build Several Teams
You may make different teams depending on the sort of competition. It is usually advised you choose a core side and then construct fantasy sides with other combinations and participate the various tournaments. Your odds of winning go up the more teams you have competing. There is a possibility you may succeed with the other team despite the fact that one of your squads is struggling.
To cover all your bases, move your players around, employ various batting lineups, and alter your bowling lineups for various teams. Choose separate captains and vice captains for each of your teams, and always have a backup game plan ready in case your team performs poorly. Even in fantasy cricket, having experience in a variety of forms is helpful.
Fantasy League Points for Indian T20
Understanding the scoring system is essential since it allows you to choose the best players for your squad. The first half of the game is conquered if you comprehend the score system!
A batter receives points for each run scored as well as a boundary or six. More points are available for high strike rates, hitting 50 or 100, and a select few others.
For each wicket they take, bowlers receive points. More points are awarded for being bowled out or lbw, among other dismissals.
The wicket keeper receives extra points for stumpings, and fielders receive points for catches as well as run outs.
Check out the game guidelines and the fantasy scoring structure if you're a newbie.
You may quickly develop into a very proficient player with some practice.
Participate in Indian T20 fantasy league on A23
You know you're on the correct road when your fantasy cricket trip begins with A23. This online platform unquestionably falls into this group of excellent and dependable fantasy providers, making it crucial for beginners to pick the proper provider so they may explore the fantasy game format with confidence and safety and have the greatest possible fantasy experience.
You will receive credit to assemble your own Indian T20 League fantasy team after registering your profile and joining A23. You will have the opportunity to select your preferred players, and you must do so by applying your knowledge and forecasting skills. Because to its generous cash awards for winners, A23 may be your supplementary earning choice.