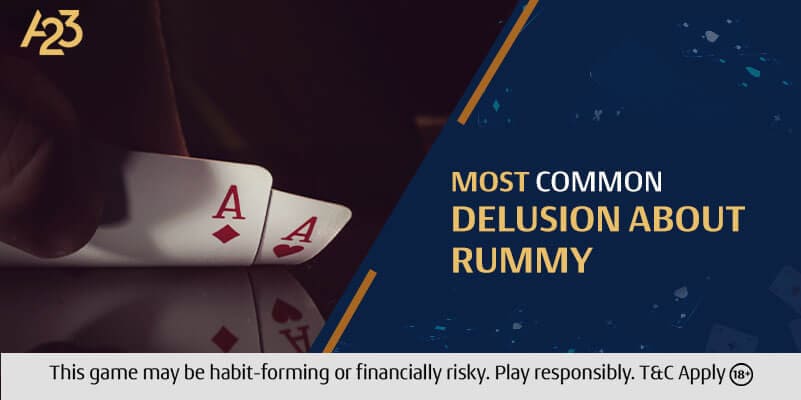 Rummy, commonly known as the 13 cards rummy has always been a popular and beloved social card game in India. And today, playing online rummy is becoming increasingly popular amongst gamers and card game enthusiasts around the world. However, like everything else, there are certain apprehensions and scepticism around playing rummy online for real cash. If you too have certain inhibitions about playing rummy online, then you have come to the right place. Continue reading below for myth busters that will help clear away all your doubts about cash and free rummy online.
Here is a list of the five most common myths about rummy:
One of the most popular myths out there is that rummy is a game of luck. However, rummy is in fact a skill based game. In order to win a game of rummy, a player must approach every move with a strategy. Learning the basic fundamentals of rummy is extremely important. It is through practice and experience that players develop the essential skills and learn various strategies that can help them win a game.
Playing Rummy Online is Illegal
There has always been a huge disparity about the legality of playing rummy online for real money. Even today, the popular notion is that playing online rummy is illegal. However, this misconception is actually the complete opposite of the truth. The Supreme Court of India gave a verdict stating that online rummy is in fact legal because it is a skill based game. It is also clearly stated in the verdict that playing online rummy for real money is legal in India and is not considered as gambling.
Players Always Lose Money in Online Rummy
Playing rummy online for real money is often associated with losing money. The lack of knowledge about the working of online rummy platforms breeds such myths. Certified online rummy portals even give new rummy players the option to play practice games to develop their skills as well as play against other amateur players like themselves. Since there are several cash tournaments, these are bound to be some winners and some losers. A player's victory or loss is completely dependent on their skills of playing the game.
Online Rummy Platforms are a Hoax
One of the common misconceptions about playing rummy online is that you play with robots and lose money. However, this isn't likely true. While participating in tournaments, players often play against players of similar ranking. Online rummy platforms also offer the option of playing rummy online in private tables.
Only Free Rummy Online Games are Safe
Perhaps one of the biggest myths about playing rummy online is that the online rummy portals are not safe. However, online portals like A23 offer secure payment options with encrypted transactions and secure payment gateways. Platforms like A23 are certified and verified and ensure that the player's personal information remains confidential.
A23 is India's premiere online rummy portal offering amazing online gaming experience to almost 4 crore players in rummy card games. A23 hosts several variants of the game such as 13 card rummy. A23 also offers players the option to play and practice rummy to brush up their skills. Its range of video tutorials on tips, tricks and rules of rummy is a great resource for beginners to learn how to play rummy online.
A23 has a responsive gaming platform which is compatible with a variety of devices and supports features like multi-screen display. From an interactive user interface to a secure platform for safe transactions, A23 aims to offer an exceptional user experience. To ensure responsible gaming habits, A23 also offers features such as self exclusion and limit setting. A23 offers a personalised gaming experience through features such as private tables, sit n go and turbo tables.
Rummy Online | Indian Rummy Game | Play Rummy Online & Win Cash on A23
A23 further offers amazing rewards and promotional offers for its players using the online platform to play rummy. A23 also offers different leaderboard contests as a part of their cash incentives program. A23 makes playing rummy online just a click away and aims to offer online rummy players in India a hassle-free and seamless gaming experience from the comfort of their homes.