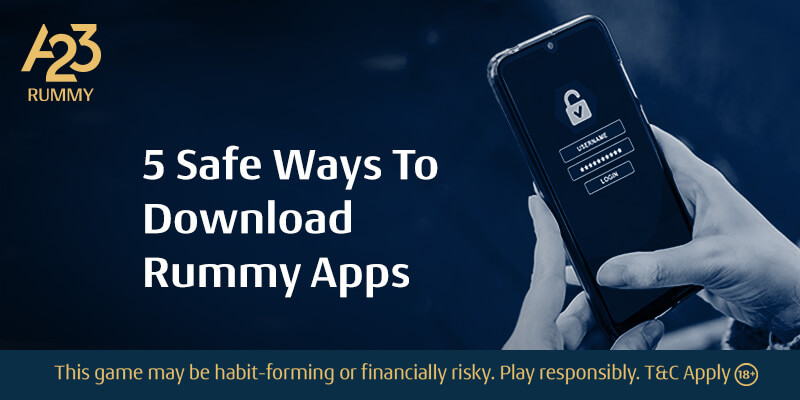 From placing meal orders to keeping track of our daily caloric intake, we use apps for practically everything. Indeed, most of us are unable to function without these apps. The popularity of smartphones is due to its applications. You cannot, though, download everything that is available online. It could damage your device, cause data loss, or worse, make you a target of internet scams like phishing. Therefore, it is essential to only download apps from reliable sources. The Apps you download, install, and run on your devices should be authenticated.
What is rummy app? Well, A Rummy App is a program that is designed with the intention to provide an online platform where rummy lovers can gather and enjoy their favorite rummy variants and cash tournaments. On such an app, you can play rummy games anytime you want or have free time. Rummy app like A23 gives you the flexibility to experience the game the way prefers. Most importantly, A23 is free to use and completely safe as well.
Nowadays, one of the most played online games is rummy. Rummy can be played on a web browser, but there are also lots of apps on the market. To help you enjoy your favorite game without bothering about the issues we outlined previously, we've listed below 5 safe and secure ways to Download rummy app.
Android Play Store
The Google Play store seems to be the finest source for Android app downloads if you have an Android phone. Before making the apps presented to Google public, they are screened. They also enable other users to evaluate and score the apps. Before determining whether to download the app, you can check these reviews.
iOS App Store
Unlike Android, iOS doesn't exist as an open source programme. It is extremely unlikely that unauthenticated apps will ever appear on iOS App Store. Because of this, most consumers like Apple phones over Android ones. It offers a protected environment. Therefore, downloading apps from iOS Store is risk-free and clean.
Windows Store
Software with a license is Windows. As a closed platform, Windows phones don't actually require antivirus software. Downloading apps through the Windows store would be as safe as it gets, despite the fact that this frequently deters app developers from creating apps for the Windows phone.
Chrome Web Store
These days, you may immediately download apps from Chrome online shops, although this option is only available on desktop. However, you can use your mobile devices to download these apps to your PC. This is a new media; therefore, it still has a long way to go before becoming widely used. However, it is among the safest methods for downloading apps.
Company's website
The most well-known online rummy website is A23. There isn't a better choice than obtaining the app from the website when the site is already well-known. The A23 app can be downloaded from their website, and one of the benefits is that you may study the rummy game rules and get ready to play for money as your app is downloaded.
Choose the best app to play online rummy
You may be wondering which is the best rummy app in India. Well, there are so many popular rummy apps in India nowadays. But, if you dig it down further, you will discover that A23 is the first Indian rummy app that still remains as one of the most used and appreciated.
We all know that staying relevant in this competitive business world is difficult. And you can't expect to grow as a business if you fail to deliver the best and satisfy your customer's needs. The strong and positive reputation of A23 tells why you should use this platform to play online rummy.
A23 is RNG certified, ensuring no-manipulation and fair gaming. Then. the platform maintains responsible gaming environment, preventing you from developing any compulsive behavior toward the game. Finally, secure monetary transaction is what sets A23 apart from fraudulent online rummy providers. You can install the app for free and start playing your preferred rummy games.
Is rummy safe?
Everyone over the age of eighteen in India enjoys playing rummy, notably Indian rummy. And now that technology has advanced to new heights, you may play rummy online, earn money, and improve your rummy-playing skills. You can compete with opponents from all across the nation and defeat them to earn rewards!
Rummy is a very popular card game, but some card players are still afraid to play it online. Online players allegedly losing their money to a fake rummy platform is the subject of numerous rumors. Despite holding strong cards, several players have griped about losing the game. Players are discouraged from considering giving the game a try by such assertions. However, when you sign up to play on a reliable platform like A23, playing online rummy is totally secure and fair.
What do you hope your app will accomplish?
All generations can enjoy the game of rummy, and there are numerous apps you can use to play exciting online rummy games and tournaments. Some provide better specs than others, albeit not all are equal. So, you must take your time and choose the best platform where you can play and enjoy the rummy fun without worry.
Here are some things to think about when searching for an app to help you get better at rummy.
What kind of game is your preferred one?
Rummy games come in a wide variety of styles, so it's important to pick one that suits your playing preferences. 13 Cards Rummy, Contract Rummy, and Gin Rummy are a few of the most well-known rummy games.
What qualities do you require?
There are more features in some apps than others. An app with fewer features may be preferable if you're just getting started so you can concentrate on mastering the game. If you're an experienced gamer, you might like more features.
What is the cost of the app?
Another crucial aspect to think about when choosing an app is the price. While some apps are free, some are not. You decide how much money you want to spend on the app, but make sure the features are worthwhile.
What Qualities Matter to You?
You should think about a few important aspects when selecting the ideal app for your rummy game.
You should look for an app that offers a huge selection of Rummy games first. You can then locate a match that is ideal for your playing ability. Additionally, confirm if the app has excellent sound and graphics. If you want to really involve yourself in the gameplay, this is crucial.
Finally, examine the usability and user interface of the programme. An excellent app with extra-ordinary features will be simple to use and navigate.
Play rummy online games on A23
The best website to play online rummy games is A23. They are a family of millions of devoted users who interact every day on both this website and the app. There are numerous game styles and permutations available, including free, paid, and tournament play. You also receive a plethora of advantages like a sizable welcome bonus, a loyalty programme, and referral bonuses that are guaranteed!
Therefore, don't waste time second-guessing yourself. Get the A23 app today and play your favorite game wherever you are, whenever you want. Have fun playing!