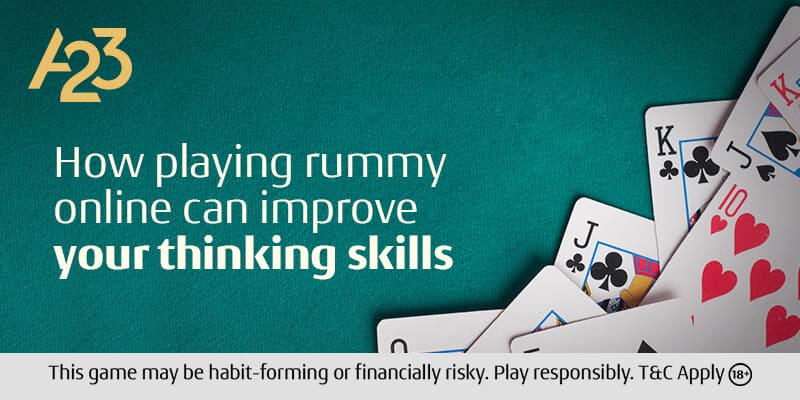 The idea that certain activities get a beneficial impact on how the brain functions is supported by a number of studies. For example, music and games are good for the brain. When you decide to play rummy, your brain also benefits greatly. The brain, which enables players to develop certain remarkable skills, is their most valuable asset in every game of rummy. The impact of playing online rummy on both of the brain's hemispheres cannot be understated, as you will learn as you continue reading.
Introduction to Rummy
Since many generations ago, playing rummy was a favorite past hour in practically every Indian home. The game is a group activity which has enhanced numerous social gatherings by bringing people together and having fun. A set pool money can be introduced to a rummy game to up the excitement factor, and each player has an equal opportunity to win it. Initially, some people mistook playing the rummy game for being idle, however this has shifted in recent years. Rummy has been categorized as a skill-based activity by the Supreme Court, which is one explanation, and it has also been demonstrated that, contrary to popular belief, the game increases productivity.
If you've just started to play rummy, you've probably seen some good changes in yourself. There are some things that unintentionally spread to every player, if you like playing face-to-face or online. Even if you play online free rummy games, that are much quicker and shorter versions of Indian rummy, you are still likely to leave with not just your wins but also with some improved mental faculties.
It is Time to Start Your Online Rummy Journey
Online rummy is indeed a straightforward game with easily learnable rules. The goal of all rummy variations, which is to create sequences and sets out of the cards dealt to you, is pretty simple to comprehend. As you play rummy online, you have access to a variety of resources for learning the rummy rules, including articles, video tutorials, and games which you can play for free with no risk. The shift from offline to online is made considerably easier by the fact that a lot of us have played rummy before.
When there are sufficient players and experienced players, gamers like playing. They like that there are multiple game modes since it allows them to demonstrate their proficiency in various game mechanics. A player can quickly switch between several game styles in online rummy games like 13 card rummy, by pressing a button. The gamer only needs to select a game mode and start playing. If you want to download rummy app, consider A23.
Online Rummy Card Games Can Help You Develop Your Mental Skills
You can download rummy app apk from A23 or play rummy straight on our website. Play often to see the following changes.
Management of Time
Each player in a cash rummy game must swiftly sort the cards that have been handed to them. To win, each player must construct combos of sequences and sets. This teaches your brain to be mindful of the passing of time and to value each minute.
Improved Observation
Every participant in Best Rummy Cash Games should learn to maintain track of the cards which their fellow competitors have discarded in addition to knowing whether they hold a winning collection of cards. This aids the player in developing a more effective card-discarding plan to win, strengthening their abilities of observation.
Logical functions are performed by your left brain. Players must arrange the cards they have in their hands into sets and sequences while playing rummy. The brain functions even better as a result of this repetitive card grouping exercise. Players will find that they are better organized in their daily activities as a result of this influence.
Mindful Computations
There are numerous calculations which must be done in the player's head at every stage of a rummy cash game. Players must use their inference abilities to determine the potential cards in the hands of their opponents by seeing the cards that are being discarded. You can learn a lot about the game's development and how to improve your decisions focused on mental computations from the reject pile.
The key to winning at Rummy is being able to predict your odds. A player must be capable of taking calculated risks and make prudent decisions in order to accomplish this. A skill for discarding cards in a way that thwarts the opponent's actions is just as crucial as understanding which cards to choose to finish your sequence.
Training in Strategy
People who develop winning methods are more likely to achieve success be it at work or elsewhere. Each participant in a rummy game must make an educated guess as to the cards held by their opponents. You should then use this knowledge to determine which cards are on the other players' wish lists so that you can be careful not to discard them. Play the Best Rummy Cash Games on A23 and win big cash as well as other rewards.
Utilizing Probability
A person is more successful at predicting outcomes of circumstances the more adept they are at comprehending probability. One ought to work at making sequences and sets, which are real-world applications of combos, permutations, and chances, as playing rummy.
Analysis Capabilities
Rummy encourages each player to thoroughly consider the information at hand. In order to foretell the potential combinations, players must analyze the cards that have been given to them. A participant will be better able to develop winning strategies as their ability to analyze develops.
Abilities of Intuition
If your intuition works in your favor when playing cash rummy, you have a better chance of succeeding. When you wish to forecast cards in rummy, this cognitive capacity is what you need. Then, a player is more equipped to understand the flow of the game. You'll discover that while you keep playing rummy, your intuitive abilities have also advanced.
Think Creatively
The ability to think creatively is crucial to winning at rummy. Playing the game consistently can help your brain think creatively. This is due to the fact that as you play more, your brain will develop fresh perspectives on the cards, giving you the opportunity to organize them in a clever method that will turn out to be a winning move.
In addition to the aforementioned, your brain is made to use the RAM functionality of your mind, which is updated with fresh data each time a card is picked up or dropped. With our customer service team on A23, one can even find out how to play the online rummy game! What then is your excuse? Download our A23 rummy app for android, play the rummy game, and win while sharpening your cognitive abilities!
Note
The intensely competitive game of rummy demands fast thinking, good decision making and with a set of Analyzing probability Skills. In order to rule the rummy game table and win in Indian rummy online cash games on A23, using technique is essential. If you want to gain an advantage over other players and become a pro on online rummy games, it never hurts to have a few tricks up your sleeve.
Are you looking for an online rummy cash game app to download? You are at the right place.
A23 is India's first online rummy platform and continues to provide the most trustworthy and secure environment for millions of rummy fans to congregate, engage in friendly competition, demonstrate their knowledge and talents, and earn sizable sums of money.