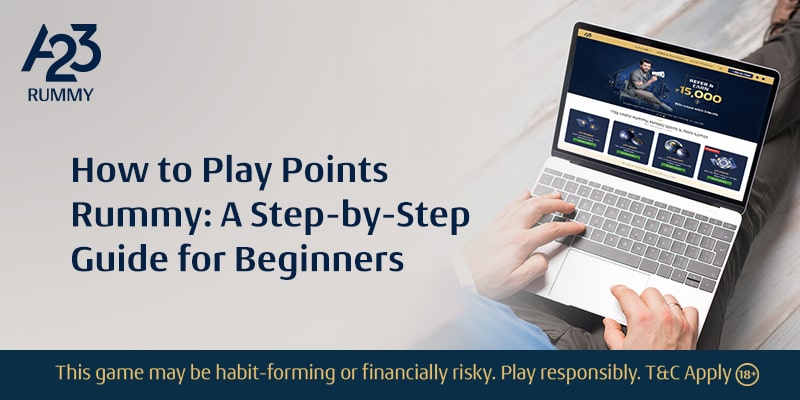 Welcome to the exciting world of Points Rummy! If you're new to this classic card game or just looking to brush up on your skills, you're in the right place. In this step-by-step guide, we'll take you through the basics of playing this game, with a special twist – you can play it online and win rewards while having a blast!
Getting Started with Online Rummy
Set Up Your Online Account
Head over to a reputable online gaming platform.
Sign up for an account – it's quick and easy.
Remember to choose a strong, unique password.
2.Navigating the Online Rummy Dashboard
Explore the platform's user-friendly dashboard.
Find the 'Points Rummy' option and click on it to start your game.
Understanding the Basics of Indian Rummy
Points Rummy, a variation of Indian Rummy, is played with a standard 52-card deck.
The objective is to form valid sets and sequences with your cards.
Gameplay of Points Rummy
Join an Online Rummy Table
Choose a table based on your preferred entry fee.
Tables with different entry fees offer various levels of rewards.

Dealing the Cards

Each player is dealt 10 cards in Indian Rummy.
The rest of the deck forms the draw pile.

3. Forming Sets and Sequences
Your goal is to arrange your cards into sets and sequences.
Sets: Three or four cards of the same rank but different suits.
Sequences: Three or more consecutive cards of the same suit.
Picking and Discarding Cards
On your turn, pick a card from the draw pile or discard pile in Points Rummy.
Discard a card you don't need.
Plan your moves strategically to build your hand.

Declaring
When you have a valid hand, declare your cards in Points Rummy.
Others may have one final turn to improve their hands.
Winning and Rewards in Online Rummy
Calculating Points
It is scored based on points assigned to each card.
The winner receives points from all losing players.
Winning the Game
The player with zero points wins the game.
This player earns rewards based on the table's entry fee.
Daily Challenges and Tournaments
Many online platforms offer daily challenges and tournaments in Points Rummy.
Participate to win extra rewards and showcase your skills.
Refer-a-Friend
Encourage your friends to join the platform and earn referral rewards.
The more, the merrier!
Conclusion
Now that you have a solid understanding of how to play the game, its time to dive into the exciting world of online Points Rummy. The thrill of forming sets and sequences, outsmarting your opponents, and winning rewards is just a few clicks away.
Remember, practice makes perfect, and the more you play Points Rummy online, the better you'll become. So, go ahead, take a chance, and explore the exciting world of Indian Rummy. It's not just a game; it's an adventure waiting to unfold!