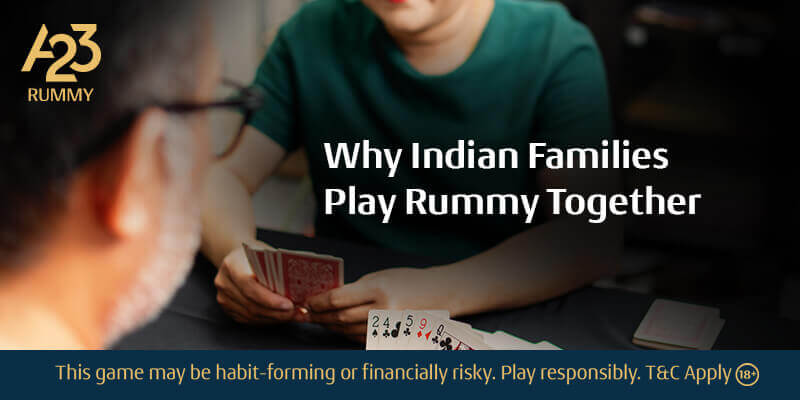 For many years, card games have been a staple of Indian society and culture. Every home in the nation probably has a few amusing family tales centered around Indian Rummy, the most well-known rummy variation. Rummy is a game that crores of individuals have grown up watching or playing with their elders. Even the elderly treasure the enjoyable family gatherings and times that include food, entertainment, and fantastic games of rummy and spend long times on it. Rummy is the most time pass game to play with families and friends during festivity time, Family Functions, get togethers & Leisure times. The country's intense passion for classic card games like rummy is largely responsible for the gaming industry's expansion.
Indian Rummy Games are currently one of the fastest expanding areas of the entertainment sector in India. One of the oldest, most popular, and most played card games in India is called Indian Rummy. Rummy is a card game of strategy, much like Chess and Bridge. A player must put in a lot of work to succeed in tournaments due to the talent required to regularly win the game. Rummy is played as a stand-alone game between 2, 4, and 6 players, either with family, close friends, or at sports clubs around the country.
Let's examine that feature in more detail.
Knowledge of the Game
Rummy is a game that most people in India have grown up with. The game of rummy has become even more well-known since it was brought online. The quick rise in rummy players can be attributed to people's familiarity with the game. Players simply needed to get acclimated to the speed of the online game, which has time limits for playing one's moves, while the gameplay and game regulations were nearly identical. The game has benefited from the game's quick speed, which offers players an adrenaline rush and makes the game more thrilling for them.
Simple Play with Simple Rules
Indians adore rummy because it has simple, understandable rules and offers high level of fun. There is no room for doubt. Even if you have never played the game before, you may quickly become familiar with the Indian rummy rules and begin participating. You must use logic and reasoning to create proper sets and sequences out of the cards you receive in this card matching game.
Rummy, a Generations-long Family Entertainer
The game of rummy bridges the generational divide, serving as a unifying force. Rummy games help family members connect, regardless of age disparities. All people interact and bond via rummy games, whether it is the grandfather teaching his teenage grandchild a few tips or that aunt who is unbeatable at the game. Any rummy enthusiast will likely be able to recall a time when they first played the game. A game that emotionally engages you will only grow in your affection over time. Rummy enthusiasts couldn't have wished for more when rummy went digital.
The legality of online rummy in India
You may be wondering is playing rummy online legal in India? Here is the answer for you.
Numerous card games, including rummy and poker, have long been ingrained in Indian society and are still played enthusiastically during family gatherings and festivals.
As a result of its online avatar, rummy has managed to win over players' hearts and achieve unrivalled fame. The digital version of rummy is made more lucrative by the large incentives and prize money offered by online rummy sites like A23.
Do you enjoy playing rummy online but are unsure if it's permitted in India? Due to the card game's explosive growth in popularity over the years, there is a lot of uncertainty over its legality in several jurisdictions around the nation.
The Supreme Court held in 1968 that rummy requires significant skill in card sequencing and discarding, distinguishing it from games like "three-card" that are solely dependent on chance. Rummy was "primarily and principally a game of skill," the jury said.
The Supreme Court of India further ruled that a contest where winning depends mostly on skill is not gambling and even if rummy contains an element of chance, it is primarily a game of skill and can therefore be regarded as a game of "mere skill."
Let's examine the reasons why you ought to play rummy at least once in your lifetime.
A fantastic source of amusement
One of the best forms of amusement is rummy. You can play rummy online with family or you can enjoy it the traditional way with real cards, and both options will keep you engaged for a while.
To win this game, you must arrange your cards into the necessary combinations and declare your winnings before any other players. Because of this, the game is fast-paced and keeps players on the edge of their seats. Additionally, when played for money, it becomes more entertaining and thrilling.
Enables you to play against actual players
When computers and cellphones weren't around, card players would gather together to play numerous rounds of rummy. Over time, it was ingrained in our culture.
When the game went online, players could compete with other rummy enthusiasts from all over the nation and play the game whenever they wanted without having to wait for other players to join them.
Tests mental faculties
Rummy is noted for testing cognitive abilities including memory and mental acuity in addition to life skills. Players must commit to memory any cards they draw or toss during the game. In fact, they must pay special attention to the cards chosen and rejected by their rivals. You may therefore test both your memory and your powers of observation as you play the game.
Elderly folks who can play rummy and maintain their cognitive abilities in check, especially memory, see it as a blessing.
Allows you to play anywhere, anytime
The online version of rummy enables you to participate in the fun anytime, anywhere, unlike the old version of the game, which required players to gather together. A simple Smartphone and a reliable internet connection are all you require. Because of how entertaining and absorbing this game is, you may have fun while also working.
Despite taking on an online form, Indian Rummy is once again trending in popularity. It not only helps one stay connected to the classical rummy game, which is an important aspect of our culture, but it also gives one the chance to make some extra money legally. The majority of platforms provide newcomers with free rummy games to practice their skills and get ready for playing cash games in the big tournaments.
Play online rummy on A23
Looking for the right answer on which online rummy is best? Well, if you are interested in online rummy, you can explore a wide variety of games and tournaments. No matter which variant of Indian rummy you want to play, you will need to choose a reliable platform first. A23 is India's first online rummy platform that crores of rummy enthusiasts use today.
A23 assure a safe and secure platform where you can play free practice games to hone you rummy skills or can participate in cash games to show the skills you already have and win real cash rewards daily. All you need is to install the app on your smart device, be it rummy app for Android or iOS, and start playing your favorite rummy games.