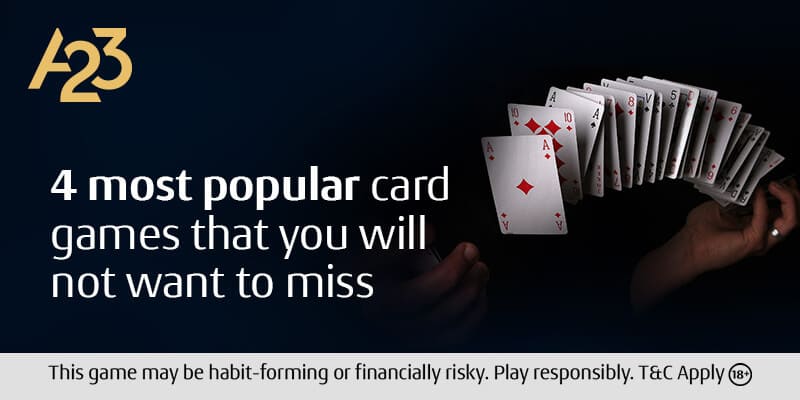 Playing cards is a huge aspect of life. You have likely played certain card games in your life, irrespective of whether you're a youngster, old, or in your middle age.
You might either adore card games or utterly detest them, which is the thing about them. But you need to respect them since it takes a lot of ability to master any kind of card game. Additionally, playing card games could be good for your health and wellbeing.
The Popularity of Card Games: Why?
Today's world places a lot of emphasis on card games, and for valid reason, What makes such cards so popular is as follows:
Card games contain rules and gameplay which are simple to adapt since they have been passed down through centuries. Note that the region of the cards affects the rules. These guidelines can be changed by players to produce a more engaging game. In addition, regardless of age or skill level, anybody can participate in these activities. Since there are so many various card games, it's simple to locate one that is suitable for your age and tastes.
Rely on both Skill and Luck
Although players had no control over their odds of winning, in the past, fortunate players were revered because they were seen as the favorites of the gods. You'll need to use a little amount of strategy to win some card games. Others, though, are solely dependent on luck.
Strengthens Ties and Friendships
Even serious chats between players don't interfere with the game. As a result, players are not required to pause the game before speaking. As a result, this not just makes them enjoyable but also strengthens relationships.
A Feature of Mystery
In board games, since everyone can see what is happening, everyone else can guess your next movements with ease. They can only see the cards you've been dealt in card games, so they can't predict your future action. Therefore, until you all lay down cards on the table, no one will know what you have.
Popular Card Games
One of the most popular games today is the game of cards. They are adored by plenty of people throughout the world for being straightforward and simple to play. Keeping some card decks on hand will help you keep your kids or friends occupied.
Nowadays, most businesses create multiple online card game variations to cater to varied customers. Do you know which card games are played the most frequently around the world? Let's look at it.
Rummy
Right today, Rummy Card Games are played all over the world and are highly popular. It has long been a hugely popular gambling game in the United States and is currently quite well-liked in India as a skill game. One of the best things about playing Rummy is that you just need one ordinary deck of cards to get started and you can play with only two players. It's referred to as a matching game, and mastering it takes significant expertise. Playing 13 Card Rummy with other players on A23 could earn you some significant money if you're strong at matching and memorizing things.
The most played version of rummy in India is called Indian rummy. The goal of this hybrid game of Gin Rummy and Rummy 500 is to create sets and sequences. Each player starts with 13 cards in this game, which is played among 4 to 6 people and two normal card decks. Many online cash rummy games have been formed where enthusiasts can participate and win big amounts, thanks to the availability of the web format.
Poker
Poker is among the most popular card games in the world. Poker nights are popular among people who enjoy playing cards. Nevertheless, reserve this game solely for adults if you plan to use money. Poker cards made expressly for this game are used by players. They also strive to maintain the greatest rating.
A dealer starts by giving each player an equal number of cards and chips. They will then each place a bet using a chip. Poker is exciting because you can deceive your opponents into thinking you have strong or weak cards. But while choosing how much money to wager, take into account your risk and the value of your cards.
Following each round, all players reveal their hands to each other to see who has the highest value; that player goes on to win the round. Different poker combos are available. It is suggested that you first stay away from money betting when you are not an experienced poker player. Instead, pay attention to how other individuals are playing this game by observing them.
Solitaire
The most popular card game is solitaire. Although it was primarily intended for two players, one can now play it by oneself. Players must arrange their cards into four heaps in descending order. Such cards must be arranged in alternate colors, thus if the top card is red, the following card ought to be black.
The only rule in this very straightforward card game is the color rule. You are expected to arrange the cards according to alternate colors as a player. The four different card suits in the deck are not particularly concerning. Numerous software versions of this game have been released by gaming firms throughout the years. It makes sense that it is a well-liked card game played alone.
Bridge
This card game, which has its roots in the Russian game Biritch, was invented in the 1880s. Bridge has changed considerably over the years, moving to different places as well. The most difficult card game is this one. You play this game with four players on two teams that are battling against one another. Several trades are in the game. Rubber and Duplicate Bridge are the two most widely played bridge game variations. Numerous competitions and tournaments are held internationally, and participants come from all over the world.
Choose the best reliable online rummy site in India
At A23, playing 13 Cards Rummy is undoubtedly rewarding and fun. Your level of gaming proficiency needs to be determined. Everything depends on your ability to participate in and gain from particular online rummy games at A23. Participate in holiday-themed special contests for a chance to win a portion of the enormous prize pools. Rummy multiplayer with pals is available at A23 to make the game more enjoyable.
If you want to explore the different variants of Indian rummy including Points Rummy, Deals rummy, Gun Shot and Pool games, install the A23 rummy cash app on play store now. Moreover, you can enjoy features like Turbo Tables, Sit & Go, Happy Hour and Private Tables, as you play online rummy on A23.
Now that these games are available in simple online versions, anyone can play their preferred variants and Indian rummy tourneys whenever it suits them. You may now maximize your enjoyment by downloading the A23 app on your phone and making a free account. Make use of your understanding of Indian rummy to raise your chances of success.
The highest level of online security for your information and your money is provided by A23, together with exceptional customer service and secure payment methods. Thanks to their specialized Rummy app, you can play and win Cash Rummy games with your friends wherever you are!