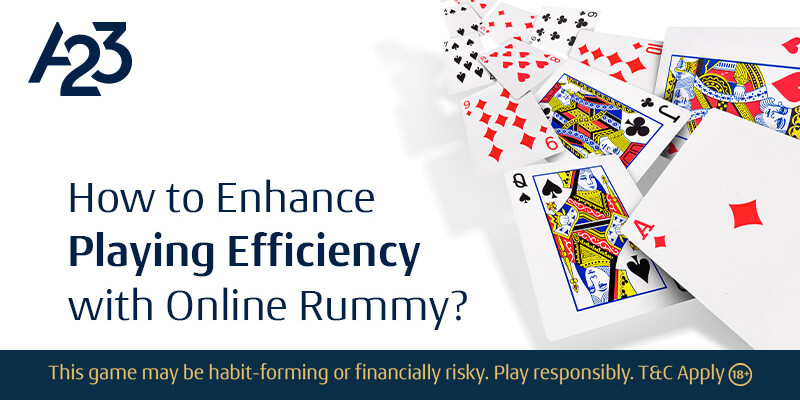 Which one of the various card games on the market is your favorite? No one would be astonished if the majority of individuals responded with Indian Rummy. The online rummy game may keep you occupied for long periods of time and is incredibly simple to understand and play.
Players are determined to demonstrate their mettle at the lively gaming tables, and the online rummy tables at A23 have evolved into the epitome of competitiveness, passion, and skill. They might be far more imaginative because to this competitive attitude, which frequently leads to the implementation of cutting-edge rummy methods at the tables. They are motivated by their zeal to improve their abilities and play at their highest level in each game.
However, certain players, mainly newcomers, require appropriate instruction on how to use various skills in the game. Are you among them? If so, you should consider what abilities you'll need to play online rummy games more cunningly than your competitors.
How to Play Rummy?
Rummy is a card game that can be played by two to six players and uses one or two standard decks of cards, with jokers. Each participant is given 13 cards, that they have to organize into sets, sequences, or both.
Every round, a player must choose a card from the open deck or the closed deck, both of which are kept in the middle of the table, and discard a card to the open deck. The first person to make a valid declaration while abiding by all rummy game rules wins the game.
Rummy Tricks
Here are some basic rummy tips to help you gaming:
Here are some basic rummy tips to help you gaming:
Observe the opponent's game.
Tricking your opponents is a great strategy to win rummy.
Drop cards which are close to the Joker.
Make as many 4-card sequences as you can.
Get rid of cards with high values or points.
Keep your middle cards in hand.
Let's discuss strategy to win Rummy:
Perfect Planning
Planning everything out in detail is the first step in completing any task. In online rummy, this means that you must consider and analyze each move, plan ahead for difficult cash games and tournaments, and create a routine that will allow you to play uninterrupted. You must also be aware of your account balance and play cash games appropriately. Only if you learn to carefully plan everything out before doing them can you be successful at rummy.
Developing Your Observational Skills
When playing online rummy, a player's observational skills are crucial to the result of his game. You probably won't win many games if you only concentrate on your own moves without considering the opponent's moves or game skills. Rather, you should try to determine your adversaries' weakness or game plan by observing their discards, timing of their moves, and card choices.
Practice, perseverance, and patience
Playing the Indian rummy game online requires practice, persistence, and patience. You must constantly practice new rummy moves and techniques and apply them on cash tables if you want to improve as a player. Additionally, you must practice patience, particularly when things don't go your favor, and tenacity while playing until you become an expert at that certain trick or tactic. Keep in mind that you should only use a new tactic if you are certain that you can master it.
Develop a Reasonable Mindset
Keeping your emotions in check while playing rummy is one of the best strategies. Competition can also result in nasty periods of hopelessness and irritability. It is crucial to bring your logical side into play during such circumstances. You must be able to think critically, pay attention, study, learn, and comprehend in order to succeed at rummy.
It is only possible to acquire this skill set while engaging in the game by participating in offline or free online rummy tournaments. When it is time to play for money, this will assist you in developing a critical and logical thought process. The easiest method to avoid being influenced by anything that can cause you to act irrationally is to set emotions aside and focus solely on the game at hand.
Time Management Skills
You have 30 seconds to plan, choose, and play your turn for each move in online rummy. Therefore, if you want to crush the competition in online rummy, you must become an expert in time management. You should also strive to learn your opponents' strategy when they take their turn in order to go ahead. It will help you save valuable seconds, that you can use to better plan your turn.
Leave on the right Time
Knowing when to quit is another aspect of having a sensible approach, particularly while playing online rummy for money. The greatest thing to do in order to succeed in the game is to approach it with the proper attitude. When you have thoroughly understood and analyzed the current situation and believe that the game is not working out for you, stop playing before you lose any more money. It is always preferable to give up and save money than to lose it to the game.
Some factors to keep in mind while playing rummy online
Indian Rummy is unquestionably not a game of chance; rather, it requires players to be skilled and patient in order to learn the technique. Here are some pointers on how to play Indian rummy effectively.
Play as per the rules
If you want to know how to win rummy, you must first thoroughly check the rules and regulations, comprehend them, and then adhere to them so as to avoid being disqualified for not doing anything wrong. Due to the fact that online Indian Rummy frequently includes a set of pre-programmed criteria, this can be rather difficult.
Uphold the code of conduct
One should uphold the rules of conduct while playing and make sure they are not abusing their abilities or engaging in malpractice if they want to become an effective player.
Be Truthful
Even if the opposition is not playing honestly, players who are direct, honest, and do not rebel while playing are more likely to win the game. During online chat interactions, they should keep their language polite and refrain from using harsh phrases. Healthy dialogue significantly increases game interest.
One can quickly acquire the abilities necessary to play online Indian rummy with practice, which will help them not only to enjoy the game as well as earn some extra money. Every age group is interested in playing online rummy for real money, and each one has their unique set of skills and methods.
Playing online rummy on A23 is simple yet fun
Do you want to start playing online rummy and win cash prizes daily? Download best rummy app A23 on your iOS or Android device, create your account and you are all set to begin your online rummy journey.
A23 is a safe online platform in which millions of rummy enthusiasts from all over the country participate and enjoy all the variants of Indian rummy. You can join cash tables or play free games to improve your rummy skills. Being the first ever online rummy platform in India, A23 is trusted by rummy lovers. You can easily use the latest A23 application. Create private table and invite your companions to play rummy games with you on A23.