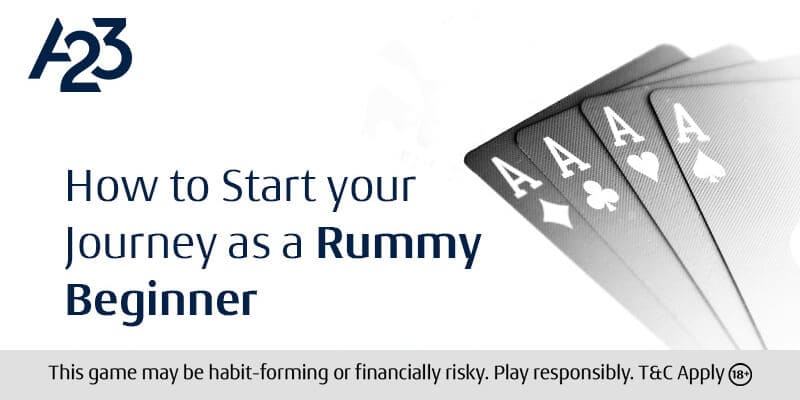 Numerous variations exist for some card games. As a result, players can start playing the kind they like. Rummy is one of these card games. A sizable player community that regularly participates in both online and offline games makes up the largest card game. The widespread popularity of the game's online variations can be attributed to a number of factors.
First of all, they are simple to get to; aficionados can start playing right away by opening a rummy app or navigating to an online rummy site like A23. A huge number of online rummy players are also freely available and eager for challenges. Players no longer have to wait a long time to face off against opponents.
Indians have been playing the fascinating card game rummy for generations. It is a staple of our culture and is appreciated by individuals from all walks of life. This age-old game, which was previously played with actual cards, is now playable online.
To play their beloved game whatever and whenever they choose, Crores of individuals have signed up for online rummy platforms like A23. Players need a reliable gaming platform so they can play without interruptions. Finally, the significance of A23 is revealed. For the finest online rummy experience, A23 offers a digital version of Indian rummy.
Players in the card game of rummy attempt to enhance the starting hand they are dealt. They can do this easily by taking any card that their adversaries have thrown, discarding a card that they are holding, and selecting a new card from the stack of cards set aside. Rummy uses a conventional 52-card deck, just like other card games.
It is time to start your online rummy journey?
Are you a novice at rummy? Would you like to actually play rummy online but are unsure of how or where to start? In that case, you've found the proper site! The ideal place to begin your online rummy journey is at A23.
Millions of users in India trust them, and that number is constantly increasing. On this site, you can participate in a wide range of rummy games, including free and real money tournaments. Novice and new players can take part in as many free practice games as they like to hone their rummy skills. Before participating in Rummy cash games, it is advised to play lots of practice games.
Register for free
Registering with A23 is the initial step. It's quite easy to sign up for A23. Go to the official website and take the following actions:
With their mobile phone number, Google or Facebook account, anyone can register for free.
Go to the lobby after registering. The gaming lobby offers three main kinds of games: cash, tournaments, and practice games. There are other variations of these games, including Points, Pool, and Deals.
Download A23 Rummy App
You must download A23 rummy app in order to play rummy on a Smartphone. To install the app on any Android or iOS Smartphone, simply follow a few easy steps.
The rummy gaming experience on the A23 app is seamless and excellent. You may play games all the time and it is simple to use.
It is important that you go through the app as thoroughly as possible to get a clear idea what to do next and how to proceed. A23 wishes you best of luck for your online rummy journey.
The main goal of playing Indian Rummy online
Players' main goal when engaging in the game is to use the 13 cards to form appropriate sets and sequences. Players must complete at least two sequences in order to win. One of the two sequences must be a pure sequence, while the other two may be any legitimate sequence or set.
Top rummy tactics for beginners to use online
Here are a few beginner's rummy tips to make your online rummy experience easy:
Organized card arrangements
There is a danger that you could pass up an opportunity to build a pure sequence if the cards are not dealt correctly. You might also incur a charge if you choose a false declaration. Therefore, once the cards have been given to you, be sure to arrange them in an orderly manner.
First create a pure sequence
To initially create a pure sequence is among the best online rummy strategies and advice for beginners. No declaration is valid if you do not possess a pure sequence.
Throw away high-value cards
If you've been given a terrible hand, it is extremely important to dispose the high-value cards as soon as possible.
Track the actions of your opponent
If you wish to succeed, you must plan your next movements as well as closely monitor your adversary's actions. By observing the cards, they are choosing and discarding, try to predict their next movements.
Make several plans
You should never play online rummy without having a plan B. You shouldn't be too set in your ways because you may have to adjust your plans in response to your opponent's actions.
Common Rummy variants on A23
You can play a variety of rummy games at A23 to get the full gaming experience. Whether you are a novice or an experienced player has no bearing. Everyone can choose from a wide range of possibilities.
Practice rummy games can be played with free chips to get you started in the game. Playing practice games enables you to evaluate your performance and develop your gaming abilities. Once you gain confidence, you can start participating in cash games and tourneys and using your abilities to win real money.
Points Rummy
The Indian rummy variation that plays the fastest and is most popular among players who want a rapid game is called points rummy. Participants in points rummy compete for points which have a predetermined fixed rupee or chip value. Depending on the points earned by the losing participants, the winner receives a prize.
Pool Rummy
Indian rummy's thrilling Pool Rummy variation lasts for multiple rounds. If a participant in pool rummy scores 101 points in 101 pool or 201 points in 201 pool, they are disqualified from the game.
Deals Rummy
For a predetermined amount of deals, deals rummy is played. Chips are the currency used by players; they are distributed at the start of the game. At the conclusion of the last transaction, the player with the most chips wins.
Why choose A23 to start your online rummy journey
A23 is indeed a user-friendly platform for playing online rummy, meets the needs of every rummy lover and is appreciated by crores of users. Rummy is available in a variety of formats at A23, including fun tournaments, free and paid games, and more.
There are numerous variations of each of these games, including Gun Shot, Deals Rummy, Pool Rummy, and Points Rummy. The largest online rummy competitions, with prize pools of millions and crores of rupees, are hosted by them. The A23 website and app are immaculate and fluid, providing the best user experience while enabling gamers to begin playing for real money.
A23 is an entirely reliable and secure place to enjoy rummy online, whether you use the website or perhaps the rummy app. A23 maintains the confidentiality of any sensitive or private data shared.
In order to conduct safe online purchases, A23 also uses secure payment gateways. You can make a withdrawal request after a cash game victory and receive the money free of charge in your account.