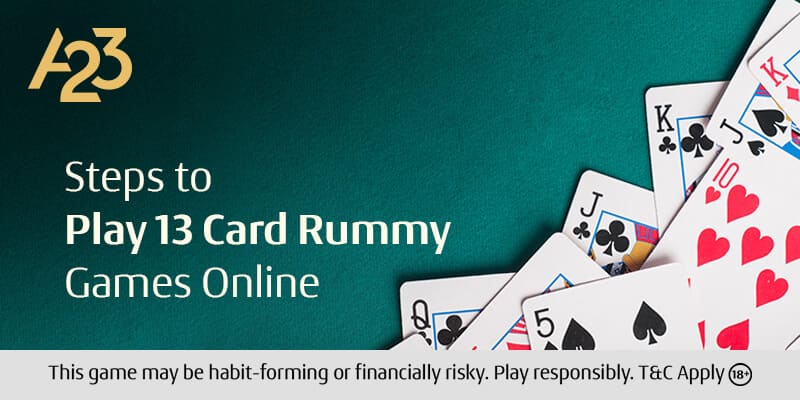 Rummy Card Games are fairly old and well-known activity that was formerly played offline however is now also played online thanks to technology and the internet. The 13-card rummy rules used online and off are relatively similar. Each participant in the game receives a hand of 13 cards, and there is a maximum of 5 players. Two 52-card decks and four jokers (wild cards) are employed in games with two or four players. Three decks and six jokers are utilized for five players. The transaction is made by each player in clockwise sequence, however it's important to keep in mind all of the game's laws.
Are you interested in learning a new card game which will make your free time very exciting? If so, 13 cards rummy is the game for you. It is among the most played variations of rummy in India and is a pretty straightforward card game. You will be capable of comprehending this Variation of Rummy once you have committed the rules to memory and participated in a few practice games.
Why 13 Card Rummy is So Popular
The most played variation of rummy in India is the 13-card game. Even as a beginner, you may pick up the game faster and start to Play Rummy Cash Games right away.
Simple to Learn 13 Card Rummy
The 13-card rummy rules are basic and straightforward to understand. 13 cards must be arranged in sets and sequences, and a declaration must be made. If you are a newbie, you can learn the game thoroughly by first playing some practice games before joining cash games on A23.
Skill-based Game
Rummy is a skill-based game that can be exceedingly difficult. For this reason, one ought to train before participating in cash games and tournaments.
Great Fun
The 13 Cards Rummy game provides a Tonnes of Entertainment. A23 offers incredibly thrilling free and cash tournaments around-the-clock. Join A23 to participate in rummy tournaments and win an endless amount of real money.
Digital gaming
The days of having to wait for family and friends to enjoy rummy are long gone. The game is now available at your fingertips. Download A23 Rummy App to compete against live opponents throughout the nation! Utilize your rummy talents to win a Crores of real money prizes.
How is Rummy Played?
Which player deserves to move first is decided by a throw.
13 cards are dealt face down to each participant. The discard pile or open deck is started by laying the following card from the stack facing up on the table. The remaining cards are dealt face down into a stock pile or closed deck in the middle of the table.
The next step is to choose a card from the stock pile and lay it face up so it is visible underneath the stock pile. No matter what suit they are, all cards of that rank can be used as supplementary jokers or wild cards.
What is the Goal of the 13-Card Online Rummy Game?
It is all about creating sequences or runs and Sets. A player declares their turn once they have used all 13 cards to construct the necessary runs and sets. In accordance with 13 Card Game Rummy Rules, a declare requires at least two runs, one of which has to be pure, commonly known as First Life. The second run, often known as Second Life, can just be pure or non-pure. There must be four or more cards in either the First Life or the Second Life. The player can hit the "Declare" button once the goal has been reached.
According to the rummy card regulations, all other participants at the table should declare after a valid declaration has been made. All of the mismatched cards are considered for such players. According to the rummy rules, each player has to get at least two points; otherwise, all 13 cards are considered unpaired and counted. The player loses 80 points if none of the 13 cards match.
Abandoning the game
A player loses 10 points when they leave the game before selecting any cards from the discard or stock pile. The player loses 30 points if the drop occurs mid-hand, before another player has completed a legitimate declaration.
The winner receives the prize money when the points for all are totaled.
Tricks & Strategies for 13 Card Rummy
Without a question, 13 Card Games of rummy is a game of skill. By employing the proper tactics, you can triumph in the game. The fundamentals of Indian Rummy must be understood if you are a newbie. To win the game, you'll also need to master a few tips and methods. Additionally, be sure to engage in as many practice games as you can.
Here are some pointers to help you succeed at the 13-card Rummy Games Online:
At the start of the game, it's crucial to sort or order the cards you have in your hand. You can pick and discard cards in accordance with the potential combinations you discover through sorting.
Without a pure sequence, rummy games are not possible to win. So, concentrate initially on producing a pure sequence. Three or more cards in a row with the same suit make up a pure sequence. A joker cannot be used as a replacement card in a pure sequence.
Simply discard any high-value cards that are not matched, such as A and K or Q.
The best way to win a game of rummy is to keep an eye on your opponent's plays. Frequently, a card in the discard pile or one that you have discarded may be picked up by one of your opponents. You can wind up aiding them in winning the game if you ignore their movements. Therefore, it's crucial to pay attention to your opponent's movements.
Different 13-Card Rummy Variations
A23 is a well-known rummy website that millions of people rely on all around the nation. On the site, there are a multiple of cash games and tournaments running all the time. You can choose a variation and begin playing for money. Before participating in real money games, beginners can first play practice games utilizing free chips.
On A23, you can play the following four 13-card rummy variations in addition to tournaments:
Points Rummy
The fastest form of Indian Rummy is this one. In cash games, this is a single-deal variation where each point does have a set monetary value.
Deals Rummy
In this variation, each deal has a fixed amount of deals, and the deal winner receives no points.
Pool Rummy
With multiple deals, it is Indian Rummy's longest format. Players are eliminated when their total hits 101 or 201 points. The person who is still playing at the end is the victor.
Gun Shot
Play Rummy at a Gun Shot speed. There's just one deal with no middle drop and time banks. Played among 2-6 players, one winner takes all and there are no time banks.
Download the A23 and Start Playing 13-Card Rummy
Download & install the A23 rummy app right away if you want to learn more about the various 13-card rummy variations, such as Points rummy, Deals rummy, and Pool games. Additionally, while playing online rummy on A23, you can benefit from features like Turbo Tables, Sit & Go, Happy Hour, and Private Tables.
When it comes to Rummy Cards A23 provides the highest possible level of digital security for your data and money, together with first-rate customer care and safe payment options. You may play and win Cash Rummy tournaments with your buddies from any location thanks to their unique Rummy app! So, what are you waiting for grab your mobile to Play Online rummy game for free and with cash, Download and install A23 cash rummy app on play store or APK from A23 Website on your android or iOS device.