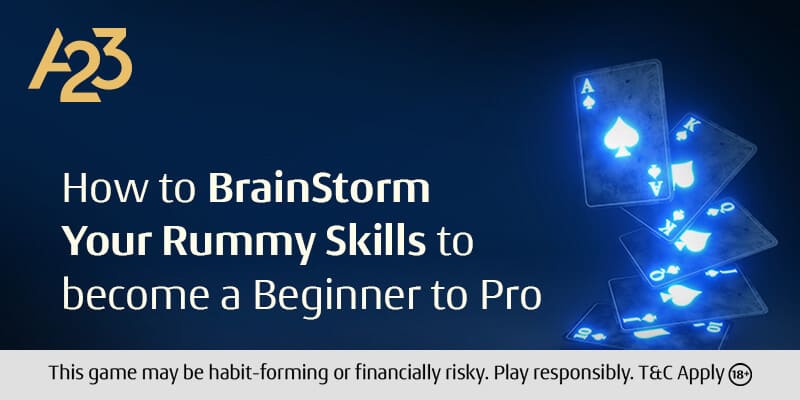 Rummy Skills to Become a Beginner to Pro
In recent times, online gaming has gained unexpected popularity. The availability of cash prizes and the ability to play in real time have contributed significantly to the success of online gaming. Indian Rummy card games, one of the most well-liked card games, has drawn Crores of participants. Rummy is a popular game that is frequently played online by people of all ages.
Indian Rummy Card Games is an activity that demands both confidence and patience to master. But the most important factors for success are practice and mental toughness. These two things give you the option to improve your gaming approach. Free rummy games are available to you on several rummy gaming platforms, including A23. You can advance to tournaments and win outstanding prizes as soon as you hone the necessary Rummy Skills to triumph in such free rummy games.
Use a Trusted Gaming Platform to Play
You must keep in mind that not every rummy platform will provide you with an enjoyable gaming experience. As a result, you ought to pick the Best Rummy App like A23, which offers financial security and is dependable. You would also have the added benefit of being able to play free rummy games. With cash games and tournaments, you can avoid directly diving into the shark's mouth.
Following that, you can participate in contests and games with a low buy-in to earn actual money. All the rummy rules and strategies will be taught to you by reputable gaming websites like A23. You can learn about the game and develop appropriate strategies from blogs. Additionally, you will discover all the details about various rummy variations, future competitions, and other necessities.
Understanding the Rummy Rules
Before participating with real money stakes, it is crucial to thoroughly comprehend the rules of rummy. Let's start by learning the very straightforward goal of online rummy games. All 13 cards in your hand must be arranged in sets and sequences. You will require at least two sequences—at least one of which has to be a pure sequence—for a statement to be considered valid.
Three or more cards in a row from the same suit make up a pure sequence.
A Joker and two or more successive cards make up an impure sequence. When a card is absent, the Joker is put in its place.
Three or four cards with the same ranking yet separate suits make up a set. A Joker can also be used in substitution of any missing cards to finish a set.
Engage in Numerous Practice Games
We are all familiar with proverb saying 'practice makes perfect'. The same holds true for playing online rummy. Your abilities and game knowledge will increase as a result of playing practice matches. You will master the online interface and rummy's rules and techniques. Additionally, you will learn new strategies for winning the game.
You may get ready for the numerous difficulties you can encounter when engaging in Indian rummy online by playing practice games. You don't have to be concerned about losing your money because they are free. So, take part in as many practice games as you can.
Choose the Proper Rummy Format
Different variations of the game, including Points Rummy, Deals Rummy, Pool Rummy, and tournaments, are available on online rummy sites like A23. In terms of rules, there aren't many differences between the forms. You can give them all a try before settling on the option that best matches your needs.
The swiftest variation of Indian Rummy is points rummy. Given that it is a points competition, every point in cash games has a set cash value. When the game is over, the winner takes all of the losing player's money.
For a predetermined amount of deals, deals rummy is played. The winning player receives chips from the defeated players based on their points at the conclusion of each deal. The game is won by the person who has the most chips remaining after the final deal.
The most demanding type of online rummy is pool rummy. The amount of deals is not predetermined, and the prize pool is significantly larger than those in Points and Deals Rummy. Pool Rummy has two variations: 101 pool and 201 pool. A Pool Rummy game will take longer to complete, but you have several chances to make things right.
Among the most competitive online rummy game variants is the rummy tournament. There are several rounds, and in order to move on to the following round, you must win each one. There are cash tournaments and freerolls, both of which you can enter by paying a small entry fee.
Confound Your Opponent
A skilled rummy player would be able to pick and discard the ideal cards. Consider your options carefully and don't always pick the card you desire. Utilize the bluffing strategy to confound your adversaries' attempts to confuse you.
Consider a scenario in which you hold four cards that are connected but need one crucial card to complete any meld. You can toss the first or final card in this situation to confound your opponent and force them to toss the middle card you require.
In rummy, players often bluff, so it's crucial to keep an eye out for tricks. Make sure your opponent never learns your cards or anticipates your next movements. Play shrewdly and refrain from selecting any cards from the open pile of cards other than the final cards in sequences or sets.
When to Start Playing Real Money Games
Everyone loves to win money? Online rummy is a popular game for rummy fans to play for cash prizes. Cash games are also a lot of fun and keep you interested. Before playing Indian rummy online for real money, though, be sure you understand all the rules completely and practice games will help you become more proficient.
You can join cash rummy games after you've thoroughly grasped all the rules, mastered the platform, and developed confidence. However, play carefully and avoid being swept up in the game. Platforms for rummy that are certified, like A23, encourage responsible gaming and provide you the choice to limit your monthly deposits. Maintain your deposit cap and maintain tabs on your time and money expenditures. Download Rummy App A23 and start your online rummy journey. You Can Download A23 Rummy Cash App on Play Store for Android Devices or APK from Website and iOS App from Play Store for iOS Devices.
Play Online Rummy Safely on A23
A23 regularly hosts tournaments with large cash payouts. Daily updates are made to the tournaments, and the actual cash rewards are greater than you might expect. On this rummy app, it's simple to participate in any tournament and play cash games. It's simple to contribute money, and depending on the real money games you select, bonuses may also be available.
Players can enjoy a top-notch gaming experience at online rummy platforms like A23. As one of the original online rummy portals, A23 provides a variety of game variations, all of which are equally entertaining and difficult. A23 contains a number of videos on tips & tricks to assist new players and beginners in learning how to play rummy. A23 provides a dynamic gaming platform that not just supports multiple screens but also a variety of devices.
A23 aspires to provide a remarkable user experience, from an engaging user interface to a secured platform for secure transactions. With the help of features like private tables, sit n go tournaments, and turbo tables, A23 provides a customized gaming experience.