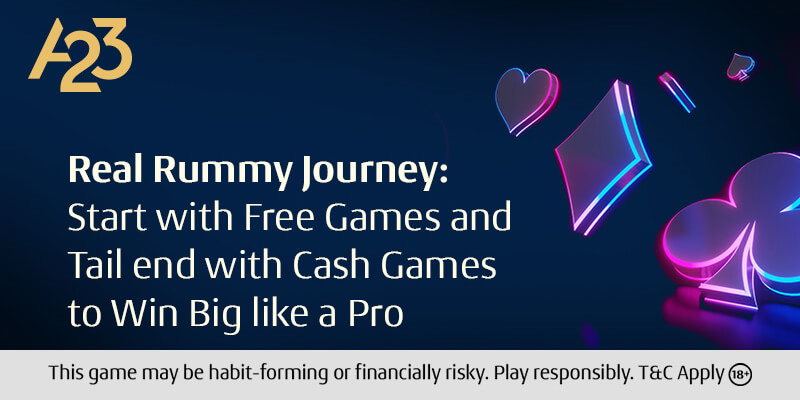 If you've ever played online rummy, you realize that it's a pure source of entertainment. A skill-based game, online rummy involves patience, focus, and thoroughness. Your development as a rummy player must start with regular free practice games if you want to go from a newbie to a professional.
Do you know How to play rummy?
Rummy needs a tremendous lot of commitment and training. Your time spent practicing will pay off handsomely because it will help you improve your rummy abilities. There are few things that a novice rummy player should concentrate on in addition to practicing.
The term "beginning" refers to a player who has just entered the realm of rummy, where everything is possible if you can develop your expertise. It seems sense that most beginners are anxious when they first begin. Rummy is a game that requires patience and regular practice to master. Before starting their playing experience, these newbies need to be aware of a few things.
Always start with free games
Like most things in this life, your brain gets better at playing online rummy the more you exercise it. Beginners must sweat it out on the practice tables and play the game, which is accessible for free, to develop a feel for the game before playing rummy online.
Before playing at tables where real money is involved, players should put in a lot of practice and strive to learn every facet of the game because mistakes made there cannot be undone.
As you are starting your online rummy journey, it is always recommended that you start by participating in Free Rummy Games. Since, no money is involved, you can play at ease and take your time to understand the game better. As you consistently play free games, you become aware of the strategies and tricks that players mature than you use to win their games.
When you join a free game on A23, you stay relaxed knowing that you are not going to lose anything, yet will acquire some knowledge and insight. Download Rummy App on A23, create your account and start your online rummy journey now. As you get to concentrate more on your gameplay while playing free games, you can expect to become a Rummy Pro and play for real money quickly.
Consider Small Rummy Tables First
Never just splurge when you sit down to play online rummy Card Games for the first time. While it is true that there is no risk without profit, beginners should not abide by this advice because their chances of failing and experiencing some setbacks are higher. A severe defeat could undermine a novice player's self-assurance and discourage them from returning to the game. Start with modest tables therefore, always. If you lose, it may be quickly recovered, and even if winning may not bring in a lot of money, it will undoubtedly build your confidence.
Patience is a key ingredient
A competent online expert rummy player must possess patience as a crucial skill. You must also possess patience in addition to the necessary abilities and awareness. When playing rummy, you must understand when to refrain and when to attack. You won't be capable of winning every game of online rummy, even when you reach a certain degree of proficiency. You should be ready for that and maintain composure throughout your play. Your ability to focus on the game and think clearly will improve with patience.
Unwavering commitment
If you allowed your focus to wander even for a second, opponents will pounce on you. Even though rummy's primary goals are amusement and fun, it nonetheless takes complete focus. You must pay close attention the entire time the game is being played if you wish to constantly win. A sound strategy at the beginning of the game will be helpful, but you should also modify it as your opponent's make their movements. Play quietly and try not to allow outside influences interfere with your game.
Be an astute observer
One of the most crucial advices for beginning your online Rummy Cards game experience is observation. You can modify your strategies and play smart if you pay attention to and follow your opponents' movements. Keep a close watch on the cards that other players choose to discard. As you watch other players, you'll notice that they're all attempting to play the same way; whenever you can, try to bluff your rivals.
Pick the Right Competition
Online rummy on the Best Rummy App A23 offers a variety of game styles and competitions to participate in. To ensure a smooth and simple rummy experience, try to select contests and game types that are appropriate for your level of rummy expertise. Play the game variants you enjoy the best, and keep practicing until you can defeat players who are far more skilled than you. The majority of the time, high stakes and large tournaments are designed for seasoned players, so if you are a newbie, hold off on playing in such right immediately.
Fear not failure
No matter how experienced you are at playing online rummy, you will occasionally have bad days. When it occurs, the goal is to remain unobstructed and to not worry about failing. The more willing you are to accept a poor outcome, the more assured you will feel about trying again. If you always worry about failing, you will never take risks and lose out on chances to establish your dominance in the game. Wins and losses are going to be part of your experience if you are beginning to play rummy or are an expert at it. To make the journey joyful, make certain that you enjoy it without stressing.
Avoid becoming combative
Aggression may result from a string of defeats or a depressed mood when you Play Rummy Online. It is advisable that you stop playing while you are in this frame of mind because you are more prone to make poor choices. Your chances of making the proper decisions increase the more composed you are.
Never pursue a loss
Self-imposed restrictions should be made when playing Online Indian Rummy on A23. A beginner should never take unnecessary risks or play beyond their capacity and risk tolerance. Don't only play to win back your lost money if you have any. Chasing your losses in rummy is a bad tactic. In such a situation, it is best to take a pause, review your play, and reevaluate your strategies before returning to the game only when the player will be in the correct frame of mind. Nevertheless, on the A23 platform, with certain limitations, we lessen the risk that a novice may encounter.
Why A23?
A23 India's First Largest most popular and rapidly expanding rummy platforms. On this website and mobile apps for Android and iOS, you may play an infinite number of 13 Rummy Card games and earn real money online. A23 is preferred above other online rummy apps by crores of online rummy gamers in India. The most common cash game in our nation is still rummy, despite the existence of other games including Teen Patti, and poker.
Users of A23 receive the greatest possible online rummy experience. You can play seamless Rummy on our platform, which has been created to provide you with a seamless and user-friendly experience. With high-value tables, entertaining game variations, exhilarating cash game, and the greatest cash payouts, we always make the experience engaging and new for you.