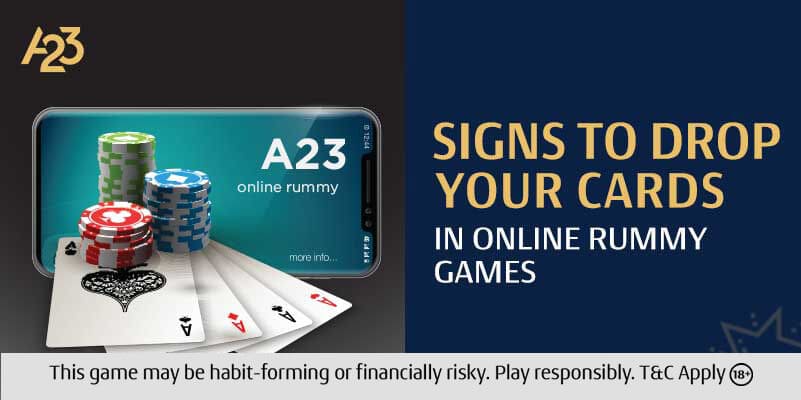 Winning a game of rummy is all about having the right cards. Now you cannot possibly always be dealt a winning hand. So, you need to be strategic about your every move to ensure that you are able to at least save your stake if winning seems a long shot. One such strategic move in the rummy game is "Drop". Although a drop is usually considered a penalty in the rummy game, if the game is not in your control, it's better to drop the game and gain some harmless points rather than losing a huge stake. Note that in Indian rummy, the more points cards you hold, the higher are your chances at losing. Thus, in order to win, you must figure out a way to avoid unwanted point accumulation.
As counterintuitive as it seems, losing a game can actually help you win or rank high on the leaderboard in the long run. Developing essential skills like knowing when to drop a game, not only would help improve your game but also raises the performance bar in an rummy online game.
Here is a list of the top five signs that hint you to drop your cards as soon as possible:
One of the requirements in a game of rummy is making a pure sequence. So every time you are dealt with a hand of cards, check if it is possible to make a pure sequence. If you are in a situation where a pure sequence is absolutely not possible, drop the game right in the beginning. Dropping a game in the absence of a pure sequence is recommended because it saves you from unnecessary penalty points.
Players, especially beginners, often underestimate the value of a Joker card. The joker card has tremendous potential because it can help you complete a set or a sequence and help you win a game. The absence of a joker card reduces the possibility of melds and thus weakens your position in a game.
Big cards like the kings, queens and aces are not always the most desirable cards in a game of rummy. For instance, if at any point of time in a game, you have a joker card, a life card, high value cards and the chance of a couple drops, check your hand score. It's more beneficial to let go of unwanted big cards instead of winning the last spot in a game. Even though it might cost you a few points, at least you do not lose the game completely.
If you regularly play rummy, you must be aware of the point system. However, if you're new to online rummy, you should know that all cards have a particular value. Every player is assigned points for the ungrouped cards in their hands. These points are multiplied into the currency value of points to determine the loss in a game. So, if in a game, you calculate a high score with the cards in your hand, it is a good idea to drop the game then.
You need to be extremely alert while playing rummy for money. You should keep a tally of your score to avoid huge losses. If you notice that your total score tally is approximately 10 points higher than the middle drop score, you should take it as a cue to drop the game which will save you from gaining bulk points at the end of the game. Additionally, if your unmatched card value is more than the middle drop point, opt out of the game in the next round.
In order to score higher on leaderboard contests, it is important to look out for these cues while playing rummy on online portals such as A23.
A23- The ultimate Indian rummy online platform
India's premiere online portal for playing rummy, A23 offers different leaderboard contests as a part of their cash incentives program. A23 also offers players the option to play and practice rummy to brush up their skills. Its range of video tutorials on tips, tricks and rules of rummy is a great resource for beginners to learn how to play rummy.
A23 is compatible with a variety of devices and has a responsive gaming platform which supports features like multi-screen display. A23 has an interactive user interface and a secure platform for safe transactions to provide exceptional user experience. To ensure responsible gaming habits, A23 offers features such as self exclusion and limit setting.
A23 has several gaming formats such as private tables, turbo tables, sit n go games to improve user experience. In addition to loyalty programs, A23 also offers amazing promotional offers and rewards for players using the platform to play rummy online. A23 aims to offer online rummy players in India a hassle-free and seamless gaming experience from the comfort of their homes.