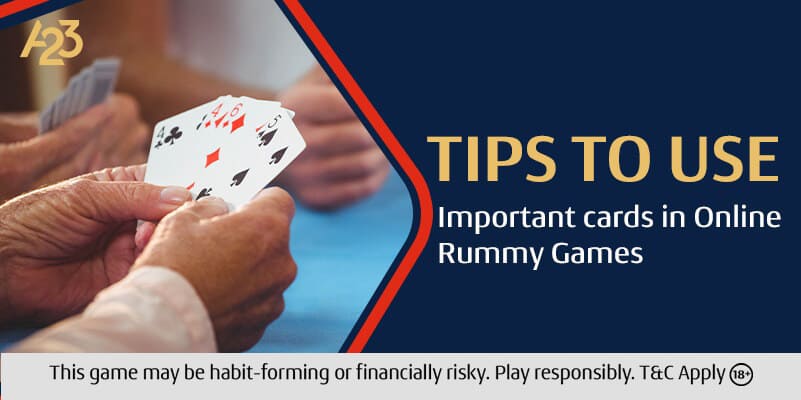 Rummy is one of the most popular card games in India. It has been traditionally played with friends and family during gatherings. However, since the onset of the pandemic, the game has moved to a digital platform. The rapid increase in the number of websites to play rummy online is indicative of the popularity of the game. Contrary to popular belief, winning a card game such as rummy isn't completely based on luck, and is in fact a game of strategy. Winning a game of rummy is more skill than luck. Players must use their skills to judiciously use the cards in their hand.
Here are a few tips and tricks to evaluate cards and leverage those cards to win the game –
Having a pure sequence is one of the requirements to win a game of rummy. It is advised to form a pure sequence before moving on the other sequences and sets. When you have a pure sequence in hand, you have the flexibility of playing around with other cards.
Although it may sound counterproductive, you should get rid of high value cards early on in the game. Cards like king, queen, jack, ten and ace increase your point burden and give your opponent the chance to declare rummy before you.
New players often make the mistake of waiting for the perfect cards. Since making a pure sequence should be a priority, players should evaluate the cards in hand and rearrange them in order to curate the combination of cards needed to win the game.
In a game of rummy, sequence and sets can be made from cards with a minimum of three. One of the tricks often overlooked is making a sequence of four or more cards.
Middle cards are perhaps the undertakers in the game of rummy. They are the most versatile cards which increase the number of combinations possible. For instance, with a 5 of ♣, players have the option to make a sequence of 2,3,4,5 or 5,6,7,8 or a set of 555.
Players need to have a strategic approach towards discarding and drawing cards. For instance, idle cards that will in no way help you create a sequence or a set, should be immediately discarded. This trick helps increase the number of cards that you can actually use.
A pro tip while playing rummy is alternating the colours while arranging the sets and sequences in your hand. This approach is recommended because it reduces the chances of discarding or picking up a card by mistake.
Joker ? is probably the most powerful card in the deck because a joker card can be assumed to be of any value and suit as a substitute. A joker card is essentially a wild card.
Any number card from the deck can be assumed as the joker card, which is often decided by the dealer. For instance, in a round, the dealer declares 7 to be the joker. So if you receive a 7 of any suit, you can use that card to complete any set or incomplete sequence.
A23- The ultimate online rummy game platform
One of India's first online rummy portals, A23 offers players the opportunity to play rummy online games for free. A23 offers several variants of the game such as 13 card rummy and rummy 500. To help new players and beginners learn how to play rummy, A23 has several videos on tips & tricks as well as in rummy rules. Players can play and practice rummy to brush up their skills.
The responsive gaming platform of A23 is not only multi-screen but also compatible with different devices. A23 has an interactive user interface and a secure platform for safe transactions to provide exceptional user experience. A23 also offers features such as self exclusion and limit setting to ensure responsible gaming habits. Self exclusion allows players to take time off from the platform; limit setting allows users to set a limit on monthly time and budget while playing rummy online. Other features offered by A23 to improve user experience include private tables, turbo tables, Sit&Go games and last but not the least, loyalty programs.
A23 offers amazing promotional offers and rewards for players using the platform to play rummy online. A23 aims to offer online rummy players in India a hassle-free and seamless gaming experience from the comfort of their homes.