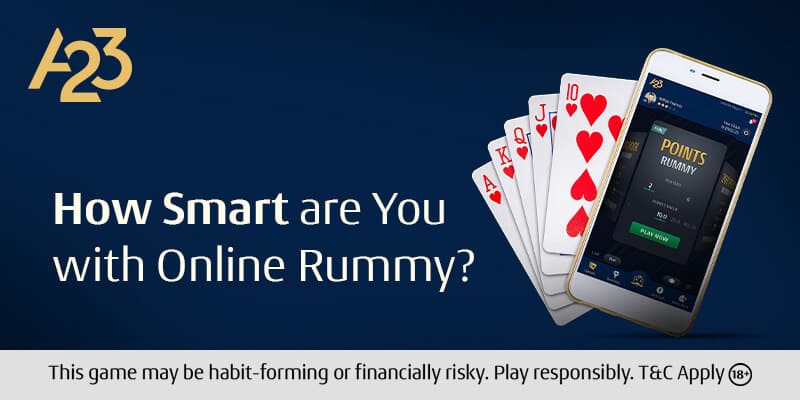 There is no set strategy for playing or secret recipe for winning at rummy. It has to do with the player's IQ. The choices made here must be precise enough to allow for a run to the finish line in only a few seconds. Smart decisions and intelligent strategy are necessary to succeed at the rummy tables. Rummy has no restrictions on learning.
How to Play 13 Card Rummy Online?
The most played Indian Rummy card game throughout India is 13-card rummy. You've probably participated in Indian Rummy before! A23 and the majority of online gaming sites provide 13 card Indian Rummy. You Can Download A23 Rummy Cash App for Android on Play Store/ APK from A23 Website. iOS users can Download iOS Rummy App on App Store
Gin rummy and Rummy 500 are combined to create Indian rummy. In Indian Rummy, 2 to 6 participants use two 53 cards decks that each contain 52+Joker to play the game.
There are two decks used for a two-player game to Play Rummy online. But three decks are utilized when there are more than two players.
Making a legitimate statement and combining your cards into groupings that are both valid is the goal of the game.
Rules for Indian Rummy
Each participant is handed 13 cards.
The leftover cards are stored face down on the playing surface. The stockpile is here.
The stockpile's top card is maintained face up on the playing surface. This is the trash heap.
Your hand of cards should be correctly sorted. Both rank and suit can be used to order items. This will lessen the likelihood of losing out on good pairings.
The direction of the game is counterclockwise.
The stockpile can either be thrown away or you can pull a card from it.
Make legitimate runs and sets that you can.
You should discard one card in order to end your turn.
The system will verify that if your combination is valid when you play online.
The winner of the round is the first person to make a legal declaration.
The value of the unpaired cards is tallied at the conclusion of the round.
Show Your Smartness While Playing Online Rummy
Do you realize the ultimate truth of rummy card games online? It is a skill-based game. Rummy played online is very different from rummy played offline. It is extremely difficult and necessitates prior understanding of game rules, cheats, and techniques, particularly when played for actual cash awards. And if you are intelligent enough, you will have a distinct advantage over rivals.
Are you able to make decisions?
Making decisions is crucial to a person's success in both their personal and professional lives. Additionally, this is a need for playing online rummy games! It assists you in choosing whether to hold a card in your hand or discard it. You can play the game better if you keep a close eye on your competitors.
If you are adept at making decisions, you may be able to do so during the game and finally come out on top. If not, you may always practice playing rummy games on A23 to sharpen your judgment.
Do you have an analytical mind?
Do you realize that using analytical thinking might give you the advantage as you play online rummy for cash? You can use this skill to determine the sort of cards you have in your hand and whether you should drop the game or keep playing.
If you are given a hand which already contains a sequence and set, for instance, you can quickly combine the other cards to create a valid declaration in a matter of moves. If you have a strong analytical mind, you can excel at online rummy games.
How do you manage a difficult circumstance?
If you're engaged in a game or pitching a business proposal, confidence will aid you get through a challenging circumstance with ease. You are less prone to make errors when you are self-assured. And this holds true in real-world circumstances as well!
Rummy professionals have confidence because they have a firm grasp of their knowledge and abilities. They remain unmoved by terrible hands and make certain calculated choices that produce the best outcomes.
Online rummy games place you in really difficult positions, therefore it's important to maintain composure and poise throughout the game. Additionally, you can always think about leaving class if and when it's required.
Do you have the patience?
Patience and perseverance are two more essential skills for winning at rummy games. Naturally, it is crucial because it raises your confidence during the game.
For example, even with the best cards in your hand, you could lose when you run out of patience when playing.
Many skilled players are patient and utilize the appropriate cards to create a valid declare. They don't give a damn about how things turn out and simply pay attention to the here and now.
You need to possess the aforementioned qualities to be a successful online rummy player. Or else, you can always enjoy practice games to develop a variety of abilities. If you have patience and skills, then play rummy and earn money on A23.
Choose the proper variant
Online rummy rooms like A23 provide a variety of 13-card Rummy Variations in India, such as Pool, Points, Deals, Gun Shot, and Multi Table Tournaments. The most significant benefit of online rummy is the availability of practice games in all varieties, which makes it simple for players to adjust to the online game space. At this point in one's career, it is simple to identify the option with the higher success rate by selecting the desired one; success in the game appears to be within the player's reach.
Is it secure to Play Online Rummy?
Online portals are utilizing India's fast expanding digital payments market. Leading rummy websites like A23 have an SSL certificate, which ensures the security of payments. Players have a variety of ways for sending money, including credit/debit cards, online banking, Paytm, and UPI, among others. In other words, the security of your money is equivalent to that of online stores.
Additionally, the Best Rummy App A23 automatically adds the earnings to a user's account, eliminating any chance of human error. Bonuses are sent to users' accounts using a comparable secure mechanism. Online rummy platforms provide players with 24/7 customer care to assist them if they run into any problems.
India's First & Most Trusted Online Rummy Site A23
Without a doubt, playing 13 Cards Rummy at A23 is rewarding and fun. You have to be able to evaluate your level of gaming proficiency. Everything will depend on your ability to participate in and benefit from specific online rummy games at A23. Participate in original Christmas-themed contests for a chance to win a portion of the substantial prize pools. To make the game more enjoyable, you can play multiplayer rummy at A23 with buddies.
If you want to discover more about the numerous Indian Rummy Variants that include Points Rummy, Deals Rummy, Gunshot and Pool Games, Download A23 Rummy App right away. You may also take use of features like Turbo Tables, Sit & Go, Happy Hour, and Private Tables while playing online rummy on A23.
The fact that these games are available in simple online versions means that everyone can play and enjoy their preferred variations and Indian rummy tournaments anytime they want. You may now find Rummy online free games to play and maximize your experience downloading the A23 app to your phone and making a free account. To increase your chances of winning, make use of your expertise of Indian rummy.