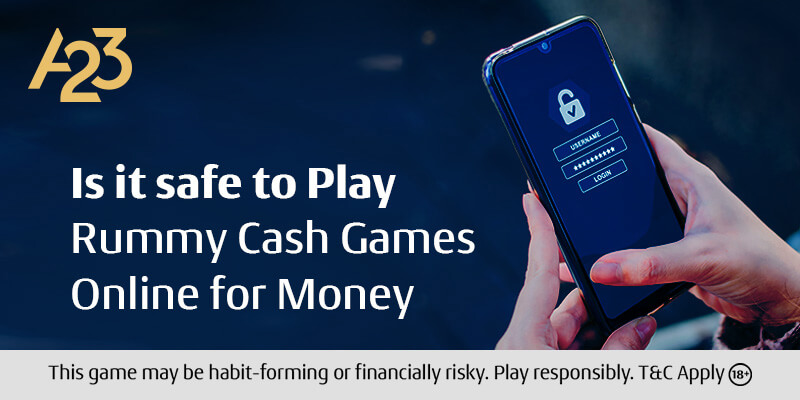 Play Rummy Cash Games Online
When your goal of making extra money coincides with something you enjoy, it is always more enjoyable. You can work from home if you enjoy playing card games. One of the most thrilling card games is rummy since each round moves quickly and players can win a tonne of money. Since playing Rummy online is so much more convenient than playing offline, a lot of individuals sign up with the Best Rummy App A23 and start enjoying Online Rummy.
Worldwide rummy fans have long been captivated by online rummy. It provides a bit of entertainment as well as a chance to make real money. You don't have to spend time assembling all the rummy players into one, unlike offline rummy. Additionally, when playing Indian Rummy Online, there is no room for human error in the distribution of cards or the calculation of points. Rummy played online is unquestionably superior to offline play. But the biggest concern that many fans of rummy have is if it is secure to play online rummy for cash.
Online rummy games have always raised concerns about their legality and safety. Rummy is a skill-based game, yet the Supreme Court has ruled that it is entirely legal in India. Online rummy is safe, and the most popular online rummy site in India, A23, is likewise safe to use. Seeking Rummy App for Android or iOS, choose A23 without hesitation.
Rummy and other skill games are fully lawful to play for money due to the protection provided by Indian law. Rummy and other online games cannot, however, be played for money in several Indian states. People who reside in a state are required to abide by the state's gaming rules because each state has unique gambling regulations.
Is Rummy a Game of Skill?
Rummy is a skill-based game, and in order to succeed, players must be well-versed in its rules.
A game of skill, on the other hand, is one where success mostly rests on the player's better knowledge, practice, focus, experience, and adroitness.
As a result, a game of skill is one where the aspect of skill takes precedence over the aspect of chance. The courts have concluded that there aren't many games that are solely based on chance or talent, if any. The dominating component—"skill" or "chance"—determines the game's personality.
Playing online rummy games on A23 is completely secure and legal. The Supreme Court of India has ruled that the skill game that the platform is offering is legitimate. The cash games, however, are not open to players under the age of 18.
In the fascinating tournaments and free and cash games that A23 offers, you can win extraordinary cash prizes and awards worth thousands and crores of rupees. Playing practice games can help you develop your rummy skills as you begin your rummy journey. Once you feel more confident, you can start playing for real money in cash games and tournaments on the A23 rummy app.
Secure Online Payments
The highest level of encryption guarantees complete security for all digital payments made. Players of rummy can relax and have fun while participating in cash games. To Play Rummy Online for Money risk-free, make sure you use a reputable site like A23. All online transactions a rummy player makes are completely transparent.
Absolute openness
There is no room for cheating because all the regulations have already been established. Additionally, new rummy players can perfect their abilities by playing practice games and watching free lessons. The cards you are given play a major role in the game of rummy. A dealer in offline rummy may lie and deal cards that are in his favor. Nevertheless, when it comes to online rummy, the cards are shuffled automatically, making sure that everyone has an equal chance of winning.
Why Engage in Online Cash Rummy?
You stand to gain a lot as a participant if you participate in this thrilling game online. The following are a few of the advantages:
It is so Much More Practical!
With companions, you have too many factors to consider when playing rummy. To begin with, for the game to be played, your pals must all be accessible at the same time and in the same location. Although many people enjoy having card games in their homes, it does cost a lot of money! To keep your guests satisfied, you must make sure you have enough snacks, beverages, and even meals. This is all just too stressful. The only equipment you need to play online rummy is a laptop or Smartphone. The game can be played whenever and anywhere you like.
Play with players who are as talented as you!
Occasionally, playing with others who are less skilled than you can be rather aggravating. Their careless errors can sluggish the game's pace and spoil its atmosphere. If you Play Rummy online, you may enjoy competing against others that are just as skilled as you are at the game!
Different Game Variations
Since each participant may have a different preferred game, there aren't many possibilities available when playing offline rummy. The thrilling variety of game permutations available in online rummy on A23, on the other hand, is unparalleled. Points rummy, deals rummy, or pool rummy are all games that you may start playing right now. You are prioritized and given decision-making power by A23!
Play Fairly
The most reliable cash rummy website in India is A23. You can play with them in a secure, hassle-free, and impartial environment. In a traditional offline setting, there is a very high likelihood of fraud. It's possible that the deck wasn't properly shuffled or that the points were calculated incorrectly. Strong anti-fraud methods and automated procedures used by Online Rummy ensure that your rights as a player are respected.
Simple ways to get started with online rummy?
The registration procedure is quick. To perform this correctly, you must adhere to these 4 steps:
Install the rummy app.
Enter your mobile number with OTP Verification to sign up or use password to Login.
Select your favourite Rummy Game & Play.
You can sign in with your Google or Facebook account as well.
You can create your account by following these instructions. You can first start with no-cost games and practice games. Add funds to your account in order to play Cash Rummy Games. The quantity of money largely depends on your comfort level. You are under no obligation to play a game with big stakes; only add the amount which you are comfortable with. Once you have added money, you may go to the game lobby and choose the table you wish to play at from among the several options.
Play Rummy on A23
If you want to try your offline rummy skills and win some attractive rewards as well as real money, online rummy on A23 would be your safest bet. On this platform, you can explore a wide variety of exciting rummy games and tournaments. All the popular rummy variants are available on A23.
All you need is to Download Rummy App A23 on your Android or iOS device, sign up for free and start playing Indian rummy online. A23 is completely safe and trusted by millions of rummy enthusiasts.
If you are new to online rummy and don't know How to play rummy, you can start with practice or Free Rummy Games and get familiar with the rummy rules first. Over time, you will be able to improve your gaming skills and join cash tables to win real cash.