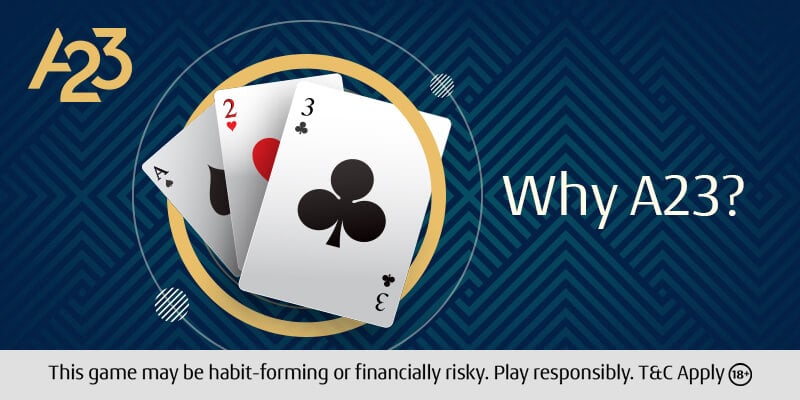 Rummy is one of the most beloved card games in our country. Many people play it every day; some play it during Diwali, and some play it at parties. We all have, at some point, played the alluring skill game of Indian Rummy. However, the card game requires 2 to 6 people to play. We all want to play with our friends and family, but getting them together is a big task. Don't worry because A23 (A-two-three) is here to rescue you. We bring the experience of the Indian Rummy Game to your fingertips. Here are some reasons why A23 is the best platform to enjoy rummy:
Never Boring:
A23 is never boring. We have a plethora of 13 cards rummy variants just for you. The rummy card games are designed in a way that will have you wanting more.
There's 'Syndicate' where the person with the lowest score wins. Then, there is the 'Points Rummy' game that lasts for just one deal, and the winner gets the chips from other players depending on their count and points. We also have 'Gun Shot' for an exhilarating short game. There's only one deal in this online rummy, and there are no middle drops and time banks. We have something for everyone at A23.
Host your own game and participate in tournaments:
With A23, you can start a private table, or you can play in multi-table tournaments as well. We have cash tournaments in which you can join with your cash balance. We also have Freeroll tournaments in which you can play free rummy and get the chance to win cash. There are tournaments where thousands of people participate during special occasions, and you can win lots of money.
Play more and win more:
At A23, we believe in our loyal users. You will get rewarded with 'Ace Points' every time you play cash games and premium tournaments. You will get some bonus cash amount depending on the number of Ace Points you have when you add cash to your account. You can also use the points to enter into tournaments and win more money.
Security:
22 million+ people play Rummy with A23. We believe in protecting the interests of our players. Therefore, you do not have to worry about privacy and security when you play with us. We have adopted ethical gaming practices that keep you safe. All cash addition transactions are secured with 2048-bit SSL. No card information is stored by us. We have a stringent fraud and collision protection system in place so that you can play without any fear of getting defrauded. Not only that, we do not have any bots as every player is verified with KYC.
Best customer support in the business:
We have made our best possible attempt so that you never experience any issue on our platform or app. However, if you face any problems, you can contact us at any time, and we will get your issue resolved in no time.
Conclusion:
A23 is India's first online rummy game platform that has facilitated hundreds of millions of games since our inception. We guarantee you the best experience you can ever have. Sign up to play online rummy and win cash with your friends from the comfort of your own home. Download the app now. Android users can click here to download rummy app, and iOS users can click here to play online rummy.